The El Neil Collection on Sale Now! [ Feb 17, 2020 ]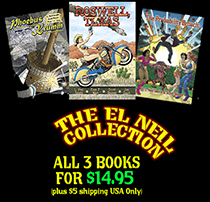 So you've wanted to buy all 3 of L. Neil Smith's classic Big Head Press graphic novels? Well, wait no longer. That day has arrived. All 3 of El Neil's books can now be ordered direct from the publisher for the low price of $14.95 USD (sorry, offer only available in the USA).
Included in this collection: El Neil's space pirate swash-buckler, Phoebus Krumm, his alternate Texas history sci-fi spy thriller, Roswell, Texas, as well as his twice Prometheus award winning sci-fi adventure, The Probability Broach: The Graphic Novel. The collection's art by Quantum Vibe creator Scott Bieser. You won't find a better deal this side of LaPorte. Order now while supplies last!
Please help Scott keep QUANTUM VIBE alive!
Buy our books:

Become a subscriber or patron
Transcript For Strip 1026
Panel 1
Nicole, dressed in a robe, is sitting at a workstation, tapping an input pad with one hand and touching the holoscreen before her with the other. She has a very intense expression. Murphy, dressed in her tank-top and yoga pants, is behind her, looking on.
Murphy: You've been up for hours. What are you doing?
Nicole: Uh-huh.

Panel 2
Medium 2-shot. Murphy lays a hand on Nicole's shoulder, startling Nicole out of her intense focus.
Murphy: Uh-huh what?
Nicole: What? Oh! I'm sorry, I was intensely focused.
Nicole: I had an inspiration.

Panel 3
Pulling back a bit, Nicole gestures at the screen as she explains.
Nicole: I had studied a bit about electric-universe theory some time back, as a goof, really.
Nicole: But then I realized a symmetry between some of Seamus' proofs and Kravinoor
Awashina's equations, see?
Panel 4
Murphy rolls her eyes as she turns to leave. Nicole starts to re-focus on her holoscreen.
Murphy: Everyone needs a hobby, I suppose. Let me know when you're ready to get back to work.
Nicole: Thanks. Hey, would you make me a sandwich?