The El Neil Collection on Sale Now! [ Feb 17, 2020 ]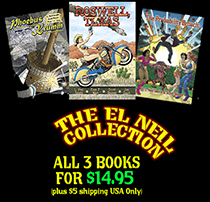 So you've wanting to buy all 3 of L. Neil Smith's classic Big Head Press graphic novels? Well, wait no longer. That day has arrived. All 3 of El Neil's books can now be ordered direct from the publisher for the low price of $14.95 USD (sorry, offer only available in the USA).
Included in this collection: El Neil's space pirate swash-buckler, Phoebus Krumm, his alternate Texas history sci-fi spy thriller, Roswell, Texas, as well as his twice Prometheus award winning sci-fi adventure, The Probability Broach: The Graphic Novel". The collection's art by Quantum Vibe creator Scott Bieser. You won't find a better deal this side of LaPorte. Order now while supplies last!
Please help Scott keep QUANTUM VIBE alive!
Buy our books:

Become a subscriber or patron
Transcript For Strip 111
Panel 1
Seamus deals with the Felipe Mendoza and the Agent Stone. Somewhere we can see Nicole's Sun-Shooter jacket folded and laid on a counter or table. Nicole is not in evidence. Mendoza tries to get in Seamus' face but he's not tall enough.
Mendoza: I am Felipe Mendoza, Hilliott Security.
Mendoza: Why did you return to your rooms after you checked out?
Panel 2
Three-shot, Seamus, Mendoza, and Stone.
Seamus: For the fifth time, we did NOT check out, despite what your records say.
Seamus: Your system is not secure, sir, and you have been hacked, no doubt repeatedly.
Panel 3
Seamus and the agents. Mendoza is enraged, Stone looks bemused. Seamus looks at Mendoza levelly.
Mendoza: Slander! How DARE you make such a claim?
Seamus: Because I hacked it myself in less than two minutes. If you'll shut up for five minutes I'll explain everything.
Panel 4
Three-shot, Seamus, Stone and Mendoza. Mendoza is apoplectic but remains silent.
Seamus: I had called Room Service to reserve a flegg to the spaceport for us in the morning.
Seamus: The clerk said we had already checked out and addressed me as 'Jerome' and told me to stop pranking him.
Panel 5
Seamus and the agents. Mendoza pipes up..
Seamus: I logged into the hotel's administrative section and saw this whole section of rooms had been flagged 'vacant' as of 13:00 yesterday.
Hotel Agent: You logged into … that's a restricted area!
Panel 6
Seamus and the agents. Mendoza is too aghast to interrupt Seamus. The Insurance Agent looks on thoughtfully.
Seamus: That's when I looked on the maintenance schedule and saw that this section was scheduled for vacuuming at 03:30 this morning.
Seamus: This was no coincidence – it was a special command entry created yesterday morning.

Panel 7
Now Stone has a question.
Stone: Any idea who made that entry?
Seamus: No – there was no time to investigate, as I had only five minutes to warn Ms. Oresme and then get into my emergency pressure-suit.

Panel 8
Now Nicole enters the frame. She has put her anysuit on and is using it to generate a curve-concealing dress-suit, with an ankle-length skirt. She has a sour expression, and Seamus is blushing.
Nicole: Five minutes? More like 5 seconds.
Nicole: Unless you put your suit on first and then remembered to warn me.
Seamus: Ah yes, well ...