The El Neil Collection on Sale Now! [ Feb 17, 2020 ]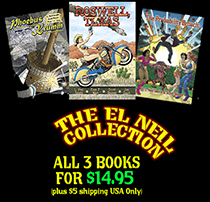 So you've wanted to buy all 3 of L. Neil Smith's classic Big Head Press graphic novels? Well, wait no longer. That day has arrived. All 3 of El Neil's books can now be ordered direct from the publisher for the low price of $14.95 USD (sorry, offer only available in the USA).
Included in this collection: El Neil's space pirate swash-buckler, Phoebus Krumm, his alternate Texas history sci-fi spy thriller, Roswell, Texas, as well as his twice Prometheus award winning sci-fi adventure, The Probability Broach: The Graphic Novel. The collection's art by Quantum Vibe creator Scott Bieser. You won't find a better deal this side of LaPorte. Order now while supplies last!
Please help Scott keep QUANTUM VIBE alive!
Buy our books:

Become a subscriber or patron
Transcript For Strip 128
Panel 1
Nicole and Hitomi continue lounging in the observation lounge. Hitomi moves closer to Nicole.
Nicole: But don't you get tired of … servicing, these four men?
Hitomi: Sometimes, which is why periodically I like clean my palette, so to speak ...
Panel 2
Close 2-shot of Nicole and Hitomi. Hitomi is leaned way into Nicole's personal space, as if leading up to a kiss. Nicole recoils nervously.
Nicole: Clean your … oh!
Nicole: Er, ah, th-thanks, but I really don't, y'know, flop that way.
Panel 3
Medium 2-shot of Nicole and Hitomi. Nicole is still blushing a bit, as Hitomi touches a hidden button on her left wrist with her right finger. As she does, her torso and hair start to shimmer, outlines becoming indistinct.
Hitomi: Don't be embarrassed … we all have our tastes ...
Panel 4
Same shot, now Hitomi is transformed into a 'pretty' young man, in similarly slutty clothing. Nicole just looks stunned.
Hitomi: No -? Abdi just loves this look.