The El Neil Collection on Sale Now! [ Feb 17, 2020 ]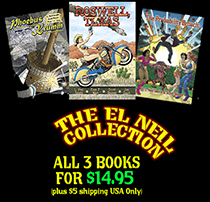 So you've wanted to buy all 3 of L. Neil Smith's classic Big Head Press graphic novels? Well, wait no longer. That day has arrived. All 3 of El Neil's books can now be ordered direct from the publisher for the low price of $14.95 USD (sorry, offer only available in the USA).
Included in this collection: El Neil's space pirate swash-buckler, Phoebus Krumm, his alternate Texas history sci-fi spy thriller, Roswell, Texas, as well as his twice Prometheus award winning sci-fi adventure, The Probability Broach: The Graphic Novel. The collection's art by Quantum Vibe creator Scott Bieser. You won't find a better deal this side of LaPorte. Order now while supplies last!
Please help Scott keep QUANTUM VIBE alive!
Buy our books:

Become a subscriber or patron
Transcript For Strip 1292
Panel 1
Alyss continues her presentation.
Alyss: Fresco and Joseph saw market-exchange economies, which they regarded as based on greed, as the prime cause of humanity's troubles.
Alyss: They proposed a 'resource-based' system, getting rid of exchange and money, and with an eye towards sustaining the material resources required for the goods people needed to live and thrive.
Sargon: This is what we've been taught in our classrooms.
Panel 2
Alyss continues, images of Ludwig von Mises and Friedrich Hayek are projected above the table.
Alyss: What they didn't teach you is that some economic theorists had already proved that without a free price system determined by voluntary exchanges, rational economic calculation is impossible.
Alyss: This theory was verified by the failure of another 'resource-based' system, known as Marxism, in the same years that Fresco and Joseph lived.

Panel 3
Alyss continues, as an image of a ca. 2000AD 'supercomputer' appears.
Alyss: Fresco and Joseph proposed that the 'calculation problem' could be solved by employing a vast system of record-keeping networked to a super-computer.
Alyss: Advancing technology offered the prospect that all mundane physical labor and manufacturing could be performed by robots, freeing humans to pursue 'higher' goals in arts and scientific discoveries.
Panel 4
Looking past Alyss to where Diana is sitting, looking bored.
Diana: Gee, sounds like quite the Utopia.
Alyss: Well, Utopias are never what they're cracked up to be.
Alyss: Anyway, while Fresco and Joseph didn't to see their plans brought to fruition, their ideas continued to be passed through the generations.
Panel 5
Several worlds imaged above the table as Alyss continues.
Alyss: With the Great Expansion, several groups saw their opportunity to establish their own 'Venus Projects' on new worlds, starting fresh.
Alyss: Over roughly two centuries, various groups founded 25 different 'Venus' worlds throughout known space.
Alyss: Your world is the 23rd such. My colleagues and I refer to it as 'Venus 23.'

Panel 6
Looking from behind Diana across to Alyss. The others are looking shocked.
Diana: And how are these colonies doing?
Alyss: Nineteen of them failed completely within 100 years.
Alyss: The others, including yours, have been declining more slowly. However, their eventual demise is all but certain.