The El Neil Collection on Sale Now! [ Feb 17, 2020 ]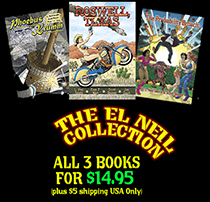 So you've wanted to buy all 3 of L. Neil Smith's classic Big Head Press graphic novels? Well, wait no longer. That day has arrived. All 3 of El Neil's books can now be ordered direct from the publisher for the low price of $14.95 USD (sorry, offer only available in the USA).
Included in this collection: El Neil's space pirate swash-buckler, Phoebus Krumm, his alternate Texas history sci-fi spy thriller, Roswell, Texas, as well as his twice Prometheus award winning sci-fi adventure, The Probability Broach: The Graphic Novel. The collection's art by Quantum Vibe creator Scott Bieser. You won't find a better deal this side of LaPorte. Order now while supplies last!
Please help Scott keep QUANTUM VIBE alive!
Buy our books:

Become a subscriber or patron
Transcript For Strip 1312
Panel 1
Bok, Zander, Alyss, Elric, Sargon and Lupin are standing against a railing looking out into the open city. Looming very large in front of them is the new cruiser Alyss has designed for their mission.
Caption: Three hours later:
Bok: It's ... gi-normous!
Zander: 'She.' She's gorgeous.
Sargon: Indeed she is.
Panel 2
Reverse angle to show the gang looking up at the cruiser.
Lupin: Have you named her?
Alyss: I'm going to name her 'Eva Jeanne.'
Zander: I have no idea who this person was, but I like the sound of her name.
Panel 3
Reverse angle again, close in on Bok, Zander, Alyss, and Elric. We can see some of Eva Jeanne in the background.
Bok: So, how do we board her? Through the hopper?
Alyss: Not this time. You all have those bracelets I gave you?
Elric: Yes. Do they let us fly or something?
Panel 4
In a flash, the gang are suddenly standing on the bridge of the Eva Jeanne. All except Alyss are astonished.
Bok: Ho-shit!
Alyss: Instant short-range displacement, the latest in Murphy-Drive technology.
Sargon: Can we go back and get my stomach?
Panel 5
All gather around Alyss:
Alyss: All right, you all know the plan, and what's at stake.
Alyss: Anyone who wants to back out, now's your chance.
Elric: Er, what about Diana?
Bok: She still says she's busy.
Panel 6
Group shot, the gang are all assembled around behind Alyss, who has her battle-face on.
Bok: But we're all in.
Zander: Yes
Elric: You bet
Sargon: Absolutely
Lupin: All the way
Alyss: Then, let's go.