The El Neil Collection on Sale Now! [ Feb 17, 2020 ]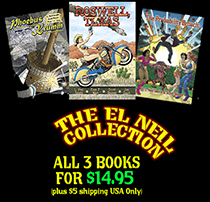 So you've wanted to buy all 3 of L. Neil Smith's classic Big Head Press graphic novels? Well, wait no longer. That day has arrived. All 3 of El Neil's books can now be ordered direct from the publisher for the low price of $14.95 USD (sorry, offer only available in the USA).
Included in this collection: El Neil's space pirate swash-buckler, Phoebus Krumm, his alternate Texas history sci-fi spy thriller, Roswell, Texas, as well as his twice Prometheus award winning sci-fi adventure, The Probability Broach: The Graphic Novel. The collection's art by Quantum Vibe creator Scott Bieser. You won't find a better deal this side of LaPorte. Order now while supplies last!
Please help Scott keep QUANTUM VIBE alive!
Buy our books:

Become a subscriber or patron
Transcript For Strip 1407
The group enters the lounge.
Alyss: What about the refugees?
Bok: Well about two-thirds of them chose to stay on Zytemonde.
Bok: Your, ah, alter-ego convinced them they could help build a better civilization there.
Panel 2
The group stands around the center of the room.
Hugo: I have grave doubts about that.
Hugo: Even the best-intentioned intelligence can be corrupted by the kind of power she has.
Bok: Hey, this is Alyss we're talking about.
Panel 3
Hugo facepalms. Murphy and Alyss are amused. Bok is bewildered.
Hugo: Oh. My. Gourd. 'We just need the right overlord!'
Hugo: Will that old chestnut never die?
Bok: What's a chestnut?
Panel 4
Murphy, Alyss, Bok, Hugo, Monty in the lounge.
Murphy: He means it's a bad idea that's been repeated often in history.
Murphy: The problem with centralized power isn't so much who wields it.
Murphy: It's in the nature of power itself. It has a dynamic of its own.
Bok: But, Alyss ...
Panel 5
Alyss places her hand affectionately on Bok's cheek.
Alyss: It's okay, Bok. Hugo and Murphy make a valid point.
Alyss: It's an unprecedented situation, though.
Alyss: Perhaps we'll visit your world again someday, see how it's turned out.
Bok: Oz is my world, now.
Panel 6
Murphy, Alyss, Bok, Hugo
Murphy: He signed the Covenant shortly after returning here.
Alyss: I'm sure Oz is very exciting to you. I wonder how your father feels about it.
Bok: My father! I almost forgot!