The El Neil Collection on Sale Now! [ Feb 17, 2020 ]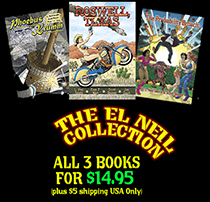 So you've wanting to buy all 3 of L. Neil Smith's classic Big Head Press graphic novels? Well, wait no longer. That day has arrived. All 3 of El Neil's books can now be ordered direct from the publisher for the low price of $14.95 USD (sorry, offer only available in the USA).
Included in this collection: El Neil's space pirate swash-buckler, Phoebus Krumm, his alternate Texas history sci-fi spy thriller, Roswell, Texas, as well as his twice Prometheus award winning sci-fi adventure, The Probability Broach: The Graphic Novel". The collection's art by Quantum Vibe creator Scott Bieser. You won't find a better deal this side of LaPorte. Order now while supplies last!
Please help Scott keep QUANTUM VIBE alive!
Buy our books:

Become a subscriber or patron
Transcript For Strip 151
Panel 1
Nicole, Seamus and the Pilot inside the shuttle. Nicole is peering at her holographic display.
Nicole: Okay, we're at the 250 meter mark – now.
Seamus: Hit the lowest left icon, and a requester for range should come up.
Seamus: Set it at 50 meters.
Panel 2
Focus on Pilot, we can see Seamus behind him.
Pilot: I have just lost the beacon to Ishtar.
Pilot: Also, I've lost radar. What gives?
Seamus: I'm afraid this is an unavoidable effect of my EM-shield.
Panel 3
Focus on Nicole and her display. She still sees multiple blips on her screen but they look different.
Nicole: I'm still seeing the traffic – but it looks different.
Seamus: Ah, very good!
Panel 4
Closer shot on Nicole, looking confused.
Nicole: But what am I – hey, wait a minute!
Nicole: There's a new blip that wasn't there before – 12 hundred klicks away and closing at 7 klicks per second!
Panel 5
Close-up on Seamus, grinning triumphantly.
Seamus: AH-HA! I knew it!
Seamus: They can cloak their radar signature but they can't hide their mass.

Panel 6
Looking forward in the shuttle cabin from the rear – we see that one of the covered boxes has glowing lights showing through the tarp covering.
Pilot: Your device can detect gravitic-field displacements that small?
Seamus: Indeed it can.
Seamus: I developed it to detect small asteroids but this application works as well.
Panel 7
Exterior of the shuttle, rocketing through space, now it has a faint bubble around it.
Pilot: But why the EM-shield?
Seamus: Unless I miss my guess, our interlopers are trying to take control of your shuttle remotely, via wireless.

Panel 8
Three-shot of Nicole, Pilot and Seamus inside the shuttle, focus on Pilot and Seamus.
Pilot: To what end?
Seamus: Most likely to board and kidnap us. We have valuable information.