The El Neil Collection on Sale Now! [ Feb 17, 2020 ]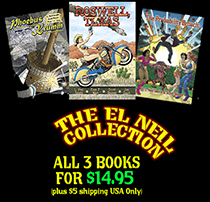 So you've wanted to buy all 3 of L. Neil Smith's classic Big Head Press graphic novels? Well, wait no longer. That day has arrived. All 3 of El Neil's books can now be ordered direct from the publisher for the low price of $14.95 USD (sorry, offer only available in the USA).
Included in this collection: El Neil's space pirate swash-buckler, Phoebus Krumm, his alternate Texas history sci-fi spy thriller, Roswell, Texas, as well as his twice Prometheus award winning sci-fi adventure, The Probability Broach: The Graphic Novel. The collection's art by Quantum Vibe creator Scott Bieser. You won't find a better deal this side of LaPorte. Order now while supplies last!
Please help Scott keep QUANTUM VIBE alive!
Buy our books:

Become a subscriber or patron
Transcript For Strip 1530
Panel 1
PP and Murphy and Hugo.
PP: Yes, there are in fact dozens of intelligent species in this galaxy, many of which are aligned with us.
PP: And, four other major powers we have to contend with, sometimes cooperating and sometimes not. What do you know about them?
Panel 2
Murphy and Hugo, with Eithne looking on.
Murphy: Not very much. We detected their major space-warp lanes, at the same time we found yours.
Hugo: We have also been monitoring your public video broadcasts, and picked up some references to other species and other powers.
Murphy: But we would appreciate a more coherent picture, if you don't mind.
Eithne (thought): 'Four others'?
Panel 3
Pull back to show the entire table. A projection plate in the center has been activated, and an image of leopard-like male and female K'TAGONS appears above it.
PP: Very well, here's a brief overview:
PP: The K'Tagons are a war-like people, organized principally along familial and tribal lines.
PP: We have had wars and alliances, alternatively, with them. Their 'honor culture' makes them volatile but not unpredictable.
Panel 4
Same shot, but now a pair of lizard-like sophonts are displayed.
PP: The Soraxians, on the other hand, have little sense of 'honor' as we would understand it.
PP: Secretive and manipulative, it was more than a century after we first noticed their influence, that we had any direct contact with them.
PP: Their government is republican in structure but nearly totalitarian in reach.
Panel 5
Same shot, now with a trio of insect-like beings.
PP: The Brennir were discovered fairly recently. They are a tri-gendered species, and a younger one.
PP: They seem to combine the Soraxian predilection for intrigue and the K'Tagon tendency for brute violence..
PP: We have a peace treaty with them but relations are still very tense.
Panel 6
Now the image is of a quartet of vaguely-humanoid beings with numerous artificial attachments.
PP: Finally, there are the Cush.
PP: They have appeared in the out-reaches of all our territories, raiding and capturing worlds.
PP: We know little about them, their technology, how they are organized, or where they come from.
Eithne: Well, apparently they're crap at accessorizing.