The El Neil Collection on Sale Now! [ Feb 17, 2020 ]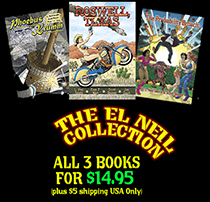 So you've wanted to buy all 3 of L. Neil Smith's classic Big Head Press graphic novels? Well, wait no longer. That day has arrived. All 3 of El Neil's books can now be ordered direct from the publisher for the low price of $14.95 USD (sorry, offer only available in the USA).
Included in this collection: El Neil's space pirate swash-buckler, Phoebus Krumm, his alternate Texas history sci-fi spy thriller, Roswell, Texas, as well as his twice Prometheus award winning sci-fi adventure, The Probability Broach: The Graphic Novel. The collection's art by Quantum Vibe creator Scott Bieser. You won't find a better deal this side of LaPorte. Order now while supplies last!
Please help Scott keep QUANTUM VIBE alive!
Buy our books:

Become a subscriber or patron
Transcript For Strip 1565
Panel 1
FB leads Eithne through the commons area. Roughly 100 square meters, with a few side-rooms. In the large area, four long tables with bench seats. In one corner, a television-viewing area with a half-dozen chairs arrayed around it. On one wall, an automat serves food (most of the other prisoners are lining up for it). On another, a robotic attendant stands ready to check out games, etc.
FB: This area is available to you for the next four chrons.
FB: It is where you will take your meals, and you may socialize with the other detainees.
Panel 2
FB, with Eithne in tow, cuts into the line to the automat. The alien (reptilian but not Soraxian) immediately behind them objects. Eithne is a bit embarrassed.
Reptilian: HSSSSS!!!
FB (to the Reptilian): I need to show the new detainee how the automat works and don't have time to wait in line, sorry.
Eithne: Uh, sorry!
Panel 3
FB and Eithne stand at a console featuring a touch-screen with a dispenser-shelf underneath. FB is putting a finger on the screen.
FB: Now watch carefully. This is the code you use to get your food.
FB: Your food is formulated specifically to suit your species' nutritional needs.
FB: You definitely don't want to get the wrong food here.
Panel 4
A tray with a bowl, a spoon, and a tumbler of some liquid appears in the dispenser-shelf.
FB: Enjoy.
Eithne: Uh, are you sure this is safe for my species?
FB: Absolutely. Our food processor dispenses for 74 known species and while you do look strange you're not particularly unusual, biologically.

Panel 5
Eithne is seated at one of the tables, spoon in hand, looking at her food dubiously. FB stands behind and to one side. Two other detainees are in the frame, eating their food.
FB: You can stare at your food as long as you like, but it won't change anytime soon.
FB: And when it eventually does it might no longer be safe to eat.
Panel 6
Eithne has taken a spoonful into her mouth and expels it violently. The other aliens look bemused. FB is nonchalant.
Eithne: FFWAAUGHH!!!
FB: Well, there is no accounting for taste.