The El Neil Collection on Sale Now! [ Feb 17, 2020 ]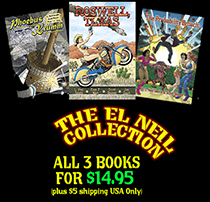 So you've wanted to buy all 3 of L. Neil Smith's classic Big Head Press graphic novels? Well, wait no longer. That day has arrived. All 3 of El Neil's books can now be ordered direct from the publisher for the low price of $14.95 USD (sorry, offer only available in the USA).
Included in this collection: El Neil's space pirate swash-buckler, Phoebus Krumm, his alternate Texas history sci-fi spy thriller, Roswell, Texas, as well as his twice Prometheus award winning sci-fi adventure, The Probability Broach: The Graphic Novel. The collection's art by Quantum Vibe creator Scott Bieser. You won't find a better deal this side of LaPorte. Order now while supplies last!
Please help Scott keep QUANTUM VIBE alive!
Buy our books:

Become a subscriber or patron
Transcript For Strip 1616
Panel 1
Ralf is standing next to a console that serves as a food/beverage dispenser. He's inserting one of the mugs into a slot, getting it refilled with guovett. We can see Eithne still in her pilot's seat, in the background.
Ralf: 'Flexiderm'? It sounds like a disease.
Eithne: It's something you can put over a spaceframe to change its color and even shape, a little.

Panel 2
Ralf has returned to the control cabin. Now he's standing with Eithne in front of the rear-center console, where a pair of screens show planar and perspective views of their police cruiser.
Ralf: So we can disguise our cruiser?
Eithne: Exactly. It's part of the 'stealth' system built into a craft like this.
Eithne: Although, I'm not sure an active scanner can't see through this, at short range.

Panel 3
Cut to exterior of the cruiser, warping through space.
Ralf (from ship): That should not be a problem at Campeche Rock.
Ralf: There, any active scanning is considered highly disrespectful.
Ralf: And likely to spark a fire-fight.

Panel 4
Same shot as panel 2, except the images of the cruiser are altered.
Ralf: That's a … classic design.
Eithne: It's a 35-year-old courier craft, modified extensively.
Eithne: It makes us look old and uninteresting.

Panel 5
Ralf studies the images.
Ralf: Yes … uninteresting will serve us well, here.
Ralf: As an independent craft, we shall need a name for it.
Eithne: What do you suggest?
Panel 6
Exterior shot of the cruiser with its changed 'skin.'
Ralf (from cruiser): Among my people is an ancient story about a daring wanderer who has many fantastic adventures. His name was, 'Ha'Arokk.'
Eithne (from cruiser): 'Space Cruiser Ha'Arokk.' Works for me.