Scott @ LP Con 2020! [ Feb 8, 2020 ]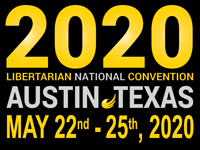 Been wishing you could meet Quantum Vibe creator Scott Bieser and get his autograph on one of his many graphic novels? If you're going to be in Austin, Texas the weekend of May 22nd through the 25th this year, you're in luck. Big Head Press will be selling books in the exhibit area for the 2020 Libertarian Party Convention. Scott will also be at the table, helping out and chatting with fans.
You don't have to be a libertarian or have any interest in politics to come see us. The exhibit area is open to the public, in the JW Ballroom on the 4th floor of the JW Marriot in downtown Austin.