The El Neil Collection on Sale Now! [ Feb 17, 2020 ]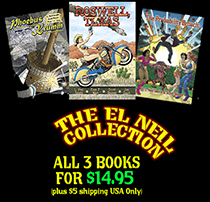 So you've wanted to buy all 3 of L. Neil Smith's classic Big Head Press graphic novels? Well, wait no longer. That day has arrived. All 3 of El Neil's books can now be ordered direct from the publisher for the low price of $14.95 USD (sorry, offer only available in the USA).
Included in this collection: El Neil's space pirate swash-buckler, Phoebus Krumm, his alternate Texas history sci-fi spy thriller, Roswell, Texas, as well as his twice Prometheus award winning sci-fi adventure, The Probability Broach: The Graphic Novel. The collection's art by Quantum Vibe creator Scott Bieser. You won't find a better deal this side of LaPorte. Order now while supplies last!
Please help Scott keep QUANTUM VIBE alive!
Buy our books:

Become a subscriber or patron
Transcript For Strip 166
Panel 1
Still at the breakfast cafe, at the table, Seamus is leaning forward and speaking softly.
Seamus: The problem is, as I see it you are manifestly well-qualified to be my assistant.
Nicole: I … I can't ...
Panel 2
Seamus is standing, and taking Nicole by the hand, leading her to stand up as well.
Seamus: You are exhausted from stress and lack of sleep and should not be making any life-changing decisions in this state.
Seamus: Please come with me.
Panel 3
The two walk down a broad concourse, with numerous other people going about their business.
Nicole: Where are we going?
Seamus: Did you know Ishtar Station has an Áine's Spa?
Panel 4
They turn into a decorated store-front style entrance to Áine's Spa. Nicole looks incredulous.
Nicole: Áine's? Really?
Seamus: My dear Ms. Oresme, you are about to receive 24 hours of paradise.
Panel 5
Nicole, clad in a smock, is reclined on what looks like a bed of lotus blossoms, in a room illuminated by dozens of candles. There are also a couple of incense burners. She appears to be sleeping peacefully.
Caption (Seamus): 'They will likely start you with an aromatic deep-rest period, in a nano-chelation-bed, to cleans the poisons from your system.'
Panel 6
Nicole in a different cafe than before, this one has a musical performing quartet on a stage. Nicole is enjoying her meal of fruits and meats. We can see some other spa customers (mostly female) at other tables.
Caption (Seamus): 'Followed by a day of delicious – and nutrient-packed – food, drink and live entertainment.'
Panel 7
Nicole is sleeping peacefully in a more normal bed (not her hotel bed).
Caption (Seamus): Finally, another assisted-sleep cycle to bring your circadian back into synch and your HPA axis back into balance.

Panel 8
Nicole, looking refreshed and resplendent, emerges from the Áine's Spa entrance to meet Seamus.
Caption: 24 hours later:
Seamus: So, Ms. Oresme, are you ready to continue our journey?
Nicole: Journey? We're on a journey?