The El Neil Collection on Sale Now! [ Feb 17, 2020 ]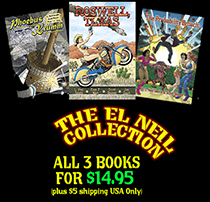 So you've wanted to buy all 3 of L. Neil Smith's classic Big Head Press graphic novels? Well, wait no longer. That day has arrived. All 3 of El Neil's books can now be ordered direct from the publisher for the low price of $14.95 USD (sorry, offer only available in the USA).
Included in this collection: El Neil's space pirate swash-buckler, Phoebus Krumm, his alternate Texas history sci-fi spy thriller, Roswell, Texas, as well as his twice Prometheus award winning sci-fi adventure, The Probability Broach: The Graphic Novel. The collection's art by Quantum Vibe creator Scott Bieser. You won't find a better deal this side of LaPorte. Order now while supplies last!
Please help Scott keep QUANTUM VIBE alive!
Buy our books:

Become a subscriber or patron
Transcript For Strip 1666
Panel 1
Going to flash-back again: Hugh Mk. 1's various parts are being packed in boxes. The face looks very outraged. Theo narrates from a cameo inset:
Theo: Oh, it got worse, absolutely. I was disassembled and boxed-up for storage.
Theo: The bastards didn't have the decency to shut me off first.
Panel 2
A spaceship roughly the size of Causa Sui but definitely a different ship, in a large hangar. Various catwalks and latters arrayed around it, and some Brennir crewmen messing around, but no sign the ship was entered.
Caption (Theo): 'But I still had contact with our ship. In a final act of desperation I uploaded my final logs and ordered it to jump back home.
Caption: 'The ship was intact, the Displacement Drive was functioning , but ...
Panel 3
Back to Murphy and Theo and Hugo in the corridor. Theo is clenching his fists in frustration.
Theo: It. Would. Not. Jump!
Theo: Diagnostics … could find no fault!
Theo: The command was executed with null result!
Panel 4
Shift focus to Murphy and Theo, as Hugo looks on. Theo is looking heartbroken, leans on Murphy a bit but looks away from her.
Murphy: What happened to … my parent self?
Theo: Oh, my dear child, the memory is so painful to recall ...
Theo: … her mind was wiped; she was rendered more vacuously submissive than she appeared to be when I first met her.
Panel 5
Cut to scene with lobotomized Murphy and her new owner, a giant pile of snot that looks something like the governor of New Jersey. The pile of snot is seated in a chair while Murphy stands next to him, wearing hyper-sexy clothing. A leash is attached to her choker, and pile of snot is holding it in one hand while waving at the camera with the other.
There are also some other feminine-appearing creatures gathered around, attired similarly to Murphy.
Caption (Theo): 'I saw in a video transmission, that … that she was sold to some sort of bipedal slug who had a … a sick fetish for certain types of alien forms.
Panel 6
Back in the corridor, Murphy and Hugo glance at each other in shock as Theo finishes the story, not noticing them.
Theo: I shouldn't have done it, but … I couldn't bear to think of Murphy, even her empty shell, in the clutches of that thing.
Theo: With a few scant seconds to act, I hacked into his ship's warp drive controls and tried to jettison the power core but …
Theo: Something went wrong. The ship was destroyed with everyone on board.