The El Neil Collection on Sale Now! [ Feb 17, 2020 ]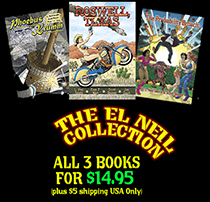 So you've wanted to buy all 3 of L. Neil Smith's classic Big Head Press graphic novels? Well, wait no longer. That day has arrived. All 3 of El Neil's books can now be ordered direct from the publisher for the low price of $14.95 USD (sorry, offer only available in the USA).
Included in this collection: El Neil's space pirate swash-buckler, Phoebus Krumm, his alternate Texas history sci-fi spy thriller, Roswell, Texas, as well as his twice Prometheus award winning sci-fi adventure, The Probability Broach: The Graphic Novel. The collection's art by Quantum Vibe creator Scott Bieser. You won't find a better deal this side of LaPorte. Order now while supplies last!
Please help Scott keep QUANTUM VIBE alive!
Buy our books:

Become a subscriber or patron
Transcript For Strip 1697
Panel 1
Show everyone at the table again, focus on Eithne and Kek. Kek is looking sideways at Fred.
Eithne: You want me to become a 'Cush Queen'? The hell's a 'Cush Queen'?
Kek: I told you that was a lame name, Fred.
Fred: Like anyone else came up with something we all could live with.
Panel 2
The Dude and Eithne:
Dude: Between your cortical implant and your knowledge of cybernetics you have just the qualities needed to run the Cush as a player race, in realtime.
Dude: Also, we'll need you to get rid of those three androids who have been messing things up.
Panel 3
Eithne, Kek and Fred.
Eithne: The three androids – you've identified one as an instance of Hugo. What about the other two?
Kek: Those are the two who came with you. Also named Hugo and Murphy, which is rather confusing.
Fred: Yeah, we understand 'model names' but individuals should each have its own.

Panel 4
Adam, the Dude and Eithne. Eithne is turned towards Fred OC.
Eithne: I'd like to know why you chose to deal with me directly rather than any of the androids.
Adam: Because they're machines, not 'living' in the same sense as you, or as us.
The Dude: They're autonomous but they lack a certain, ah, je ne sais quoi is the closest your language can come to describe it.
Panel 5
Eithne, Kek and Fred.
Eithne: You mean like … a soul? I can't believe I'm so different from arti-folk.
Kek: Let's not get side-tracked into a theological discourse.
Fred: Yeah we'd still be here yapping after this galaxy has burned itself out.
Panel 6
Medium close-up on Eithne.
Eithne: All right, I will agree to be your 'Cush Queen' to save your game.
Eithne: But there are some things you'll all have to do for me.