Scott @ LP Con 2020! [ Feb 8, 2020 ]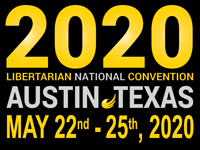 Been wishing you could meet Quantum Vibe creator Scott Bieser and get his autograph on one of his many graphic novels? If you're going to be in Austin, Texas the weekend of May 22nd through the 25th this year, you're in luck. Big Head Press will be selling books in the exhibit area for the 2020 Libertarian Party Convention. Scott will also be at the table, helping out and chatting with fans.
You don't have to be a libertarian or have any interest in politics to come see us. The exhibit area is open to the public, in the JW Ballroom on the 4th floor of the JW Marriot in downtown Austin.
Please help Scott keep QUANTUM VIBE alive!
Buy our books:

Become a subscriber or patron
Transcript For Strip 171
Panel 1
Three-shot of Seamus, Nicole, and Vanessa Oresme, having met on the Pellucidar Station walkway. Nicole looks scandalized, but Seamus and Vanessa are smiling.
Nicole: MOTHER! I can't believe you called my boss a walrus!
Vanessa: Oh, we've said worse things about each other, haven't we, Seamus?
Panel 2
Vanessa has stepped forward to take Seamus' extended hand in greeting. Now Nicole looks confused.
Seamus: Regrettably, we have, and yet we're still friends if I'm not mistaken.
Vanessa: Not on that point.
Vanessa: So, what the hell happened to you?
Panel 3
The three begin moving along the walkway together. Vanessa between Seamus and Nicole. Vanessa and Seamus banter like old friends, Nicole is just getting over her surprise.
Seamus: My last rejuvenation went awry, and my current project has not allowed me time to fix it.
Vanessa: You always did put your work before everything.
Nicole: You – do you know each other?
Panel 4
Three-shot of Seamus, Vanessa, Nicole.
Seamus: Oh, yes, for quite some time. But we haven't seen each other in years.
Seamus: In fact, the last time was 23 years ago, when you called me to consult on your osmotic cloning project.
Panel 5
Three shot from reverse angle, putting Nicole on the left and Seamus on the right.
Nicole: Your osmotic cloning project – you mean, the project that produced me?
Vanessa: Yes, dear, that project.
Panel 6
Swing around again to show the trio from the front. Now Vanessa is looking a bit distressed.
Seamus: And I was a bit more than a consultant.
Nicole: What do you mean?
Panel 7
The group pauses at the entrance to a restaurant named, 'La Bocca.'
Vanessa: Ah, here we are! I made reservations in advance.
Vanessa: I hope you still like novo-Italiano quisine, Seamus.

Panel 8
The three are inside the restaurant, at the hostess station. The hostess is ready for them.
Seamus: I think it's past time you told her.
Vanessa: I will, but I want a glass of wine first.
Nicole: Tell me what?