The El Neil Collection on Sale Now! [ Feb 17, 2020 ]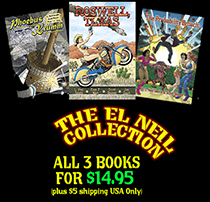 So you've wanted to buy all 3 of L. Neil Smith's classic Big Head Press graphic novels? Well, wait no longer. That day has arrived. All 3 of El Neil's books can now be ordered direct from the publisher for the low price of $14.95 USD (sorry, offer only available in the USA).
Included in this collection: El Neil's space pirate swash-buckler, Phoebus Krumm, his alternate Texas history sci-fi spy thriller, Roswell, Texas, as well as his twice Prometheus award winning sci-fi adventure, The Probability Broach: The Graphic Novel. The collection's art by Quantum Vibe creator Scott Bieser. You won't find a better deal this side of LaPorte. Order now while supplies last!
Please help Scott keep QUANTUM VIBE alive!
Buy our books:

Become a subscriber or patron
Transcript For Strip 1734
Panel 1
Diana is at the green grocers, an extra bag in one hand while she keys her payment into the shopkeeper's console. But she is also wincing in reaction to her phone buzzing.
Caption: The zucchini and summer squash at Kelsey's were first-rate, and such a good deal that I was only mildly annoyed by Juan's telcall.
Caption: It was my day off, dammit, and I didn't want to have to deal with whatever problem Juan had that couldn't wait until Primias.
Panel 2
Medium close-up of Diana holding her palm alongside her face.
Caption: Naturally, Juan wanted me to meet him at some bar right away.
Caption: About something urgent that he didn't want to discuss in a telcall.
Caption: At first I figured he was just looking for a partner in a nooner.
Panel 3
Laden with grocery bags and her flycar/briefcase, Diana strides towards a booth marked, 'Instatrans Deslocar Servicios.'
Caption: Still, something in Juan's voice told me that this was not just a lame attempt at a booty call.
Caption: Also, he insisted that I meet him via Displacer, rather than use my car.
Caption: I hate using those things. They give me headaches. And he knows this.

Panel 4
Diana, still laden with her grocery bags, is standing near a booth in a low-lit, elegant establishment. Seated at the booth are Juan, on the left, and Alyss Roaz, on the right.
Caption: If I'd known who was waiting to meet me I might have gone home and put my groceries away first.
Caption: Because I knew that any caper involving Alyss Roaz – yes, THAT Alyss Roaz – was going send me down some damn rabbit hole.