The El Neil Collection on Sale Now! [ Feb 17, 2020 ]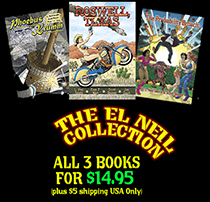 So you've wanting to buy all 3 of L. Neil Smith's classic Big Head Press graphic novels? Well, wait no longer. That day has arrived. All 3 of El Neil's books can now be ordered direct from the publisher for the low price of $14.95 USD (sorry, offer only available in the USA).
Included in this collection: El Neil's space pirate swash-buckler, Phoebus Krumm, his alternate Texas history sci-fi spy thriller, Roswell, Texas, as well as his twice Prometheus award winning sci-fi adventure, The Probability Broach: The Graphic Novel". The collection's art by Quantum Vibe creator Scott Bieser. You won't find a better deal this side of LaPorte. Order now while supplies last!
Please help Scott keep QUANTUM VIBE alive!
Buy our books:

Become a subscriber or patron
Transcript For Strip 1833
Panel 1
Close-up of Diana in severe anguish, her face surrounded by a black fog of despair.

Caption: It hit me like a steamroller I didn't see coming.
Caption: They tortured him. For information. About the Roaz case.
Caption: They were looking for me, too. They didn't find me.
Caption: They had to have asked him where I would go. But he didn't give me up.
Caption: No matter what they did to him, he didn't give me up.
Panel 2
Pull back, now we see that Diana is curled up in the lap of Wook, who is stroking her hair in an attempt to comfort her as she would a child. Diana is snapping out of her funk and realizing where she is.

Wook: … he will be healed … it's okay … he will be with you again ...
Diana: Buuh …
Panel 3
Diana quickly gets to her feet, looking embarrassed. Wook looks a bit disappointed. Areum, looking on, is deadpan as usual.
Diana: Sorry … sorry! I … Juan is a good friend, and … this ...
Areum: Unfortunately you will not be able to speak with him for another 16 days.
Areum: Perhaps we should return to the flyer now.
Panel 4
Diana bends close over Juan's sarcophagus. In the background are the bodyguards, and the snake.
Diana: So … Senhor Montoya, you said I have full control of his business and property?
Montoya: Yes, indeed. He must hold you in high regard, to be so trusting.
Areum: Take care that you do not precipitate another emotional collapse, Montoya.