The El Neil Collection on Sale Now! [ Feb 17, 2020 ]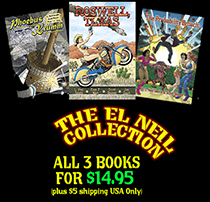 So you've wanted to buy all 3 of L. Neil Smith's classic Big Head Press graphic novels? Well, wait no longer. That day has arrived. All 3 of El Neil's books can now be ordered direct from the publisher for the low price of $14.95 USD (sorry, offer only available in the USA).
Included in this collection: El Neil's space pirate swash-buckler, Phoebus Krumm, his alternate Texas history sci-fi spy thriller, Roswell, Texas, as well as his twice Prometheus award winning sci-fi adventure, The Probability Broach: The Graphic Novel. The collection's art by Quantum Vibe creator Scott Bieser. You won't find a better deal this side of LaPorte. Order now while supplies last!
Please help Scott keep QUANTUM VIBE alive!
Buy our books:

Become a subscriber or patron
Transcript For Strip 1835
Panel 1
The snake confronts the nurse as the others look on. He's flashing his card again.
Montoya: I beg your pardon, madam, but Senhora Martelli, here, is an assignee of this patient.
Ienil: Izzat so? Well, if you're disturbing the patients here I can toss ya all out just the same.
Panel 2
Diana is now bending closely over the head of the sarcophagus, looking into the face-mask.
Diana: Please, Nurse Ienil, I just wanted to talk to him, but … can you tell me how … huh.
Diana: I can see him … what's that all over his face?
Ienil: We call it 'healing mud.' Makes a scaffolding for reconstructing facial bones and tissues.
Panel 3A
Extreme close-up of Juan's face, covered in the healing mud. We can see his eyes are closed.
No dialog.

Panel 3B
Extreme close-up of Juan's face, covered in the healing mud. We can see one of his eyes open, looking back at the reader.
No dialog.
Panel 4
Looking back at Diana from Juan's POV in the sarcophagus. She looks suitably shocked.
Juan (thoughtsend, distorted): … older … Belbenoit … Château Périlleux ...