Scott @ LP Con 2020! [ Feb 8, 2020 ]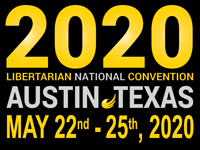 Been wishing you could meet Quantum Vibe creator Scott Bieser and get his autograph on one of his many graphic novels? If you're going to be in Austin, Texas the weekend of May 22nd through the 25th this year, you're in luck. Big Head Press will be selling books in the exhibit area for the 2020 Libertarian Party Convention. Scott will also be at the table, helping out and chatting with fans.
You don't have to be a libertarian or have any interest in politics to come see us. The exhibit area is open to the public, in the JW Ballroom on the 4th floor of the JW Marriot in downtown Austin.
Please help Scott keep QUANTUM VIBE alive!
Buy our books:

Become a subscriber or patron
Transcript For Strip 186
Panel 1
In the foyer of Dalliances. An A.I. that manifests as an animated feminine face and hands on a screen welcomes and instructs Nicole and Seamus. There are two doorways, one on each side of the A.I. screen.
A.I.: Welcome to Dalliances, the first word in discretion.
A.I.: Please enter separately, through each of the two doorways before you.
Panel 2
Nicole and Seamus exchange discomforted looks.
Seamus: Last chance to change your mind.
Nicole: I guess my curiosity wins the argument. Let's get this over with.
Panel 3
Nicole is in a room standing before a console. The A.I.'s voice speaks.
A.I.: Please deactivate and remove your anysuit, shoes and all jewelry.
Nicole: Erk.
Panel 4
Seamus is in a similar room.
A.I.: Please deactivate your powered chair and remove your clothing and any jewelry.
Seamus: I can do the latter, but I require this chair for mobility in this gravity environment.
Panel 5
Back to Nicole: She is now starkers, her arms folded across her chest, and rolling her eyes.
A.I.: Please hold still while we scan for recording devices.
Nicole: As if I'd want to record this little misadventure.
Panel 6
A panel in the console opens and something that looks like a Dejah Thoris' tiara is presented.
A.I.: We detect an M-6460 Series Cortical Implant.
A.I.: You may either choose to permit us access to your implant to deactivate its recording features, or wear this Farraday Crown, which will inhibit recording and transmission.
Panel 7
As Nicole dons the tiara, a door opens behind her, revealing a closet with several items hanging from a rack.
Nicole: This is all I get to wear?
A.I.: You may choose from among the lingere items on the rack behind you.

Panel 8
Nicole has donned a teddy that looks like it came from Victoria's Secret, but conceals her naughty bits.
Nicole: I guess this will have to do.
A.I.: When you are ready you may enter the encounter room, to your left.