The El Neil Collection on Sale Now! [ Feb 17, 2020 ]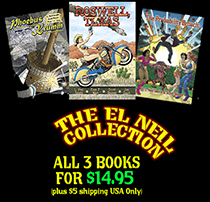 So you've wanting to buy all 3 of L. Neil Smith's classic Big Head Press graphic novels? Well, wait no longer. That day has arrived. All 3 of El Neil's books can now be ordered direct from the publisher for the low price of $14.95 USD (sorry, offer only available in the USA).
Included in this collection: El Neil's space pirate swash-buckler, Phoebus Krumm, his alternate Texas history sci-fi spy thriller, Roswell, Texas, as well as his twice Prometheus award winning sci-fi adventure, The Probability Broach: The Graphic Novel". The collection's art by Quantum Vibe creator Scott Bieser. You won't find a better deal this side of LaPorte. Order now while supplies last!
Please help Scott keep QUANTUM VIBE alive!
Buy our books:

Become a subscriber or patron
Transcript For Strip 1872
Panel 1
Diana stands before Wickberg and his attendants.
Diana: Sr. Wickberg, I presume? My name is Diana Martelli.
Wickberg: Ah, the famously brutalized refugee.
Wickberg: I must say, you look much more interesting in person.
Panel 2
Medium close-up on Diana. We can see Areum and one of the plebes behind her.
Caption: I wasn't sure whether he was alluding to that ridiculous get-up deClayre put on me for Tchaikowski's net-stream, or simply coming on to me. I chose to ignore the comment.
Diana: I'm conducting background research for a docu project I'm working on.
Diana: The topic involves the unsolved murder of the gynoid Hyami, who was once in your employ.
Caption: The 'docu project' bit wasn't completely a lie. I did plan on making a docu of this case after I'd solved it.
Panel 3
Medium four-shot of Wickberg and his four attendants. The gynoid on the left (Gynoid 1) is speaking.
Wickberg: Hayami?
Gynoid 1: She was our security on the House of Demons promotional tour, four years two cycles ago.
Wickberg: Ah, yes, I remember. Big girl. No sense of humor, but the job didn't require that.
Panel 4
Pan to include Diana, Gynoid 1, and Wickberg, who looks a bit annoyed.
Diana: No sense of humor?
Gynoid 1: She didn't laugh at the boss' jokes.
Wickberg: My jokes are professionally crafted, and failure to appreciate them is a sign of … well … humorlessness. Believe me, it's true.