The El Neil Collection on Sale Now! [ Feb 17, 2020 ]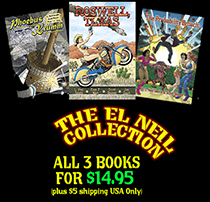 So you've wanting to buy all 3 of L. Neil Smith's classic Big Head Press graphic novels? Well, wait no longer. That day has arrived. All 3 of El Neil's books can now be ordered direct from the publisher for the low price of $14.95 USD (sorry, offer only available in the USA).
Included in this collection: El Neil's space pirate swash-buckler, Phoebus Krumm, his alternate Texas history sci-fi spy thriller, Roswell, Texas, as well as his twice Prometheus award winning sci-fi adventure, The Probability Broach: The Graphic Novel". The collection's art by Quantum Vibe creator Scott Bieser. You won't find a better deal this side of LaPorte. Order now while supplies last!
Please help Scott keep QUANTUM VIBE alive!
Buy our books:

Become a subscriber or patron
Transcript For Strip 1878
Panel 1
Stefan stands by work station. The station consists of an upright casket, the insides of which roughly outline a human form, but everything is modular and adjustible. Stefan himself appears to be a cyborg – part marchine, part biological human. He stands straight, his nose in the air, looking like an effete machine-queen. But when he speaks ...

Caption: Stefan was not quite what I expected:
Stefan: Oi! Annabelle said me next appointment was wi' bios but I thought she were pullin' me leg.
Stefan: If yer looking for … ah … cosmetical surgery I can most heartily recommend Bartolo's Beautysculpting Boutique, onna fourth level.
Panel 2
Areum, Diana, and Stefan

Diana: I'm just here to ask you about a former customer.
Diana: Her name was Hayami. She worked for Gianturco Guaranta, and she were … was murdered a bit more'n a year ago.
Stefan: Aye, that were an awful tragedy for sure. That sexy giantess were wunna me favorites, ya know.
Panel 3
Diana and Stefan, conversing as Areum looks on.
Caption: Stefan's weirdly accented dialect of Looniespeak was throwing me off.
Caption: But he was a talker, so I spent the next 15 minutes hearing about all the gossip Hayami shared with him …
Caption: But very little of it seemed relevant to the case, until ...
Panel 4
Diana lights up at Stefan's words.
Stefan: Ah, but there was one, Belbenoit. That's the one she hated like a dinion hates a zylocone.
Caption: 'Belbenoit'! Apparently, he was someone Hayami encountered at one of her clandestine meetings.
Caption: I never did learn what the hell a dinion or a zylocone are.