The El Neil Collection on Sale Now! [ Feb 17, 2020 ]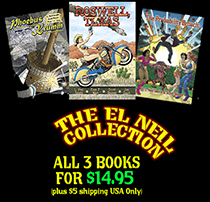 So you've wanted to buy all 3 of L. Neil Smith's classic Big Head Press graphic novels? Well, wait no longer. That day has arrived. All 3 of El Neil's books can now be ordered direct from the publisher for the low price of $14.95 USD (sorry, offer only available in the USA).
Included in this collection: El Neil's space pirate swash-buckler, Phoebus Krumm, his alternate Texas history sci-fi spy thriller, Roswell, Texas, as well as his twice Prometheus award winning sci-fi adventure, The Probability Broach: The Graphic Novel. The collection's art by Quantum Vibe creator Scott Bieser. You won't find a better deal this side of LaPorte. Order now while supplies last!
Please help Scott keep QUANTUM VIBE alive!
Buy our books:

Become a subscriber or patron
Transcript For Strip 191
Panel 1
In the encounter room at Dalliances, Seamus and Nicole continue their ultra-private conference.
Nicole: I hope you brought us in here for more than a history lesson, Seamus.
Seamus: Quite so. I was merely establishing the context for my purpose.
Panel 2
Medium shot on Seamus.
Seamus: It is my theory that humans flourish best when they have frontiers to explore and conquer.
Seamus: Keep us bottled up within boundaries long enough and our culture begins to rot and erode, and people become either ennervated or self-destructive.
Panel 3
Medium close-up on Nicole, looking dubious.
Nicole: I – I suppose so, but we still have plenty of unexplored places in the Solar System.
Nicole: Don't we?
Panel 4
Seamus, looking ominous.
Seamus: We have a few such places on the inhospitable fringes, and your mother's Venusian terraforming project may well give us one more interesting place to build upon.
Seamus: But the rot has already set in.
Panel 5
Seamus and Nicole.
Seamus: Luna was once much like L-5 City is now, but, well, you'll see when we get there.
Nicole: Ok, so granted we need new frontiers, and the stars are probably out of our reach. What else is there?
Panel 6
Now Seamus smiles one of his enigmatic smiles.
Seamus: While we've been looking for new worlds across the canyons of intersteallar space, we have overlooked countless new worlds almost literally right around the corner.
Seamus: In alternate quantum universes.
Panel 7
Looking past Seamus at Nicole, Nicole rolls her eyes.
Nicole: Alternate universes? Oh, come on.
Nicole: David Deutsch proved way back in the First Century that we could never even detect them, much less cross the dimensional barrier.

Panel 8
Medium close-up on Seamus, looking determined.
Seamus: David Deutsch was brilliant. And, he was wrong.