The El Neil Collection on Sale Now! [ Feb 17, 2020 ]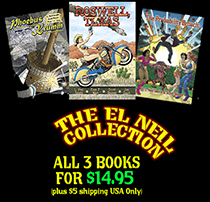 So you've wanted to buy all 3 of L. Neil Smith's classic Big Head Press graphic novels? Well, wait no longer. That day has arrived. All 3 of El Neil's books can now be ordered direct from the publisher for the low price of $14.95 USD (sorry, offer only available in the USA).
Included in this collection: El Neil's space pirate swash-buckler, Phoebus Krumm, his alternate Texas history sci-fi spy thriller, Roswell, Texas, as well as his twice Prometheus award winning sci-fi adventure, The Probability Broach: The Graphic Novel. The collection's art by Quantum Vibe creator Scott Bieser. You won't find a better deal this side of LaPorte. Order now while supplies last!
Please help Scott keep QUANTUM VIBE alive!
Buy our books:

Become a subscriber or patron
Transcript For Strip 1980
Panel 1
Cut back to deCastries' office, where deCastries is confronting the image of Alyss.

Alyss: I've placed an Oresme shield around your building, so there'll be no sneaking her out via Displacer.
DeCastries: This is OUTRAGEOUS! Property rights are sacrosanct in this city!
Panel 2
Different angle on Alyss and DeCastries. We can see Alyss' battle-cruiser outside his window.

Alyss: So are sapient lives, Claude.
Alyss: Now, do you want to do this the easy way, or the hard way?
Panel 3
Outside the DeCastries building, several new ships pop into position between Alyss' armada and the building, each of them oriented towards the armada.
DeCastries (from buidling): For me, this is the easy way.
DeCastries: Now, back off before things get bloody.
Panel 4
On the command deck of Alyss' ship, the Eva Jeanne, Alyss grins an evil grin.
Alyss: You poor sap, you really don't know who you're dealing with, do you?
DeCastries (elect): Er, aren't you Alyss Roaz?