Scott @ LP Con 2020! [ Feb 8, 2020 ]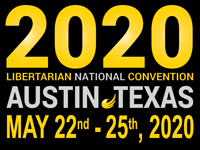 Been wishing you could meet Quantum Vibe creator Scott Bieser and get his autograph on one of his many graphic novels? If you're going to be in Austin, Texas the weekend of May 22nd through the 25th this year, you're in luck. Big Head Press will be selling books in the exhibit area for the 2020 Libertarian Party Convention. Scott will also be at the table, helping out and chatting with fans.
You don't have to be a libertarian or have any interest in politics to come see us. The exhibit area is open to the public, in the JW Ballroom on the 4th floor of the JW Marriot in downtown Austin.
Please help Scott keep QUANTUM VIBE alive!
Buy our books:

Become a subscriber or patron
Transcript For Strip 1983
Panel 1
The captions will take quite a big chunk of this panel. The lower part is filled with Alyss, Dong, Sergio Cooper, and two of the 'gang' leaders from Pandemonium Sphere looking up in a mix of wonder and confusion.

Caption: The ensuing battle has been well-reported in the docu media so I won't go over that here. Except to acknowledge the bravery and honor of the people who fought for me. I'll never forget them.
Caption: It turned out that Sergio Cooper had quit Smith & Holder, formed his own company, and was immediately hired by Alyss.
Caption: After almost a day of fighting, the defenders were neutralized and the source of Guido's signals was found:
Panel 2
Reverse view to show a very large construction that looks like the opened-up model of the hyper-cubexahedron, doubled, with the twin reversed and facing the first one. There is a small gap between the two which glows with pink-colored energy. The heads of the invaders look very small at the bottom of the fame, indicating the scale of the thing.

Sergio: So, what the heck is this supposed to do?
Alyss: I'll get my grand-kin on it right away.
Panel 3
Sergio is lifting a rather nerdish-looking DeCastries minion by the front of his shirt, like Khan Noonian Singh lifting poor Chekov by the convenient handle on his enviro-suit. The minion is cringing in terror.

Sergio: You! You look like you know what this thing does. Now, either you can tell us, or ...
Minion: I'll tell you everything you want to know! Please don't hurt me!
Panel 4
Still holding the minion, Sergio turns to grin at Alyss, who is not impressed.
Sergio: See? All we had to do was ask politely.
Alyss: I still want my grand-kin here to verify that what this character tells us won't get us obliterated from reality.