Scott @ LP Con 2020! [ Feb 8, 2020 ]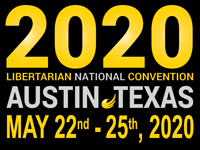 Been wishing you could meet Quantum Vibe creator Scott Bieser and get his autograph on one of his many graphic novels? If you're going to be in Austin, Texas the weekend of May 22nd through the 25th this year, you're in luck. Big Head Press will be selling books in the exhibit area for the 2020 Libertarian Party Convention. Scott will also be at the table, helping out and chatting with fans.
You don't have to be a libertarian or have any interest in politics to come see us. The exhibit area is open to the public, in the JW Ballroom on the 4th floor of the JW Marriot in downtown Austin.
Please help Scott keep QUANTUM VIBE alive!
Buy our books:

Become a subscriber or patron
Transcript For Strip 1989
Panel 1
Diana: Bolivar Eustace Clark, documentarian. You've come along way since we were rescured from Zytemonde.
Bok: I came so far I lost the 'Eustace' along the way.
Diana: Ha. So How soon will you have something put together for me to look at?
Bok: Oh, a couple of fivedays.
Panel 2
Bok: I'm doing a seaparate docu on the arbitration itself, and I'm almost ready to wrap that one.
Diana: Wow, you're keeping busy these days.
Bok: Well, since you exposed that RPLD plot, Mentes Libres has been kicking their education efforts into high gear.
Panel 3
Bok: So I guess I have you to thank for the extra business I'm getting now.
Diana: Really? Guess who's the single biggest financial supporter of Mentes Libres?
Bok: Alyss Roaz? Well, of course. It always comes back to Alyss doesn't it?
Panel 4
Diana: It won't, for much longer.
Bok: Huh? What do you mean?
Diana: Alyss is leaving Bubbleopolis, maybe for good this time.
Bok: Wat!