The El Neil Collection on Sale Now! [ Feb 17, 2020 ]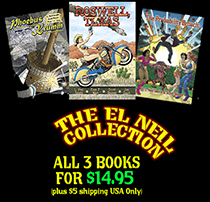 So you've wanted to buy all 3 of L. Neil Smith's classic Big Head Press graphic novels? Well, wait no longer. That day has arrived. All 3 of El Neil's books can now be ordered direct from the publisher for the low price of $14.95 USD (sorry, offer only available in the USA).
Included in this collection: El Neil's space pirate swash-buckler, Phoebus Krumm, his alternate Texas history sci-fi spy thriller, Roswell, Texas, as well as his twice Prometheus award winning sci-fi adventure, The Probability Broach: The Graphic Novel. The collection's art by Quantum Vibe creator Scott Bieser. You won't find a better deal this side of LaPorte. Order now while supplies last!
Please help Scott keep QUANTUM VIBE alive!
Buy our books:

Become a subscriber or patron
Transcript For Strip 2025
Panel 1
On a green world, five figures are harvesting carrots and tubers from a large garden. Two of them are standing close together, and one of that pair is speaking to the other.

Caption: A new settlement on Nyumbani, in the galaxy NGC 4438.
Figure 1 (Sandra): Sixteen seasons here and I still can't figure it out.
Figure 2 (Tom): Figure what out, Sandra?
Panel 2
Sandra indicates another figure, a female, pulling tubers out of the ground several meters away.

Sandra: That gynoid, 'Melissa.'
Sandra: It doesn't even need to eat food, like we do.
Sandra: Why is it out here harvestin' taters?
Panel 3
Medium shot of Melissa, pulling potatoes. She is side-glancing towards Tom and Sandra. Her bemused look indicates she can hear them.
Tom (OP): She said her skin absorbs energy directly from the sun, so outdoor work suits her.
Sandra (OP): Whoop-de-doo. I'll bet it uses more energy workin' than it gets soakin' up sunshine.

Panel 4
Tom is squatting while extracting some carrots with a spade, while Sandra stands by, holding a basket almost full of same.
Tom: Maybe so. We all got our reasons for being here, and it's impolite to pry.
Sandra: Tom, I came here to get away from all the technology back home. It poisons th' soul.
Sandra: And now it's followed me here.