The El Neil Collection on Sale Now! [ Feb 17, 2020 ]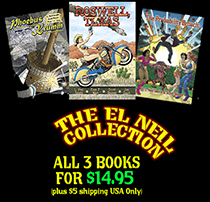 So you've wanted to buy all 3 of L. Neil Smith's classic Big Head Press graphic novels? Well, wait no longer. That day has arrived. All 3 of El Neil's books can now be ordered direct from the publisher for the low price of $14.95 USD (sorry, offer only available in the USA).
Included in this collection: El Neil's space pirate swash-buckler, Phoebus Krumm, his alternate Texas history sci-fi spy thriller, Roswell, Texas, as well as his twice Prometheus award winning sci-fi adventure, The Probability Broach: The Graphic Novel. The collection's art by Quantum Vibe creator Scott Bieser. You won't find a better deal this side of LaPorte. Order now while supplies last!
Please help Scott keep QUANTUM VIBE alive!
Buy our books:

Become a subscriber or patron
Transcript For Strip 2028
Panel 1
A large, long, dark asteroid is barely visible against the stellar background. Some speed lines to indicate it's moving along its length, in ¾ aspect to foreground-right

Caption: In the year 568 SA, the invention of the Oresme-Murphy Discontinuous Displacement Engine made instantaneous travel between distant locations, even across millions of light-years, not only possible, but common-place.
Caption: As one result, technology enabling swift travel through real space-time languished.
Panel 2
The asteroid is now seen in side-view. We can see a bit of machinery on the back end of it.

Caption: Gravity drives only work well in the vicinity of large masses. Solar sails only work well near bright stars.
Caption: Fusion and ion drives are limited by the amount and weight of the fuel they can carry. More fuel means more mass means more fuel required to achieve a desired rate of acceleration.
Panel 3
The asteroid is now moving away.
Caption: For such practical reasons, the fastest spacecraft rarely exceed one-tenth of light-speed – roughly 30,000 kilometers per second.
Caption: And achieving that speed requires 3 Standard days of acceleration at more than 10 times the gravity of Old Terra. Across 4.5 billion kilometers.

Panel 4
The asteroid is farther away now.
Caption: However, if one wants to accelerate a large mass up to a large fraction of light-speed, within a reasonable time-frame, the Displacement Engine does offer part of a solution.
Caption: But using it does require some patience. Plus, a willingness to risk oblivion.