The El Neil Collection on Sale Now! [ Feb 17, 2020 ]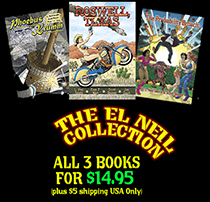 So you've wanted to buy all 3 of L. Neil Smith's classic Big Head Press graphic novels? Well, wait no longer. That day has arrived. All 3 of El Neil's books can now be ordered direct from the publisher for the low price of $14.95 USD (sorry, offer only available in the USA).
Included in this collection: El Neil's space pirate swash-buckler, Phoebus Krumm, his alternate Texas history sci-fi spy thriller, Roswell, Texas, as well as his twice Prometheus award winning sci-fi adventure, The Probability Broach: The Graphic Novel. The collection's art by Quantum Vibe creator Scott Bieser. You won't find a better deal this side of LaPorte. Order now while supplies last!
Please help Scott keep QUANTUM VIBE alive!
Buy our books:

Become a subscriber or patron
Transcript For Strip 2037
Panel 1
Bok is flanked by Alyss Roaz and Sergio Cooper, with The City in the background

Alyss: Here in Bubbleopolis we have a different calendar than was used on Old Terra.
Bok: Our year is divided into 10 cycles of 30 days each.
Sergio: But we still have a year-end celebration, Holiday Week.
Panel 2
Same shot, background now shows symbols of the various holidays.

Alyss: Most of the traditional year-end holidays are honored at this time.
Bok: Christmas, Hanukkah, Kwanzaa, Laylat al-Qadr, Makara Sankranti, and Atlasday.
Sergio: Holiday Week is 25 Deciary through 30 Deciary.
Panel 3
Same shot, a simple background. Sergio is giving Bok the side-eye.
Alyss: Celebrants may spend one or more days of the week in quiet contemplation, meditation, and even fasting.
Bok: Or, they may indulge in feasting, intoxication, and general revelry.
Sergio: It can be a challenging time for peace-keepers.
Panel 4
Same shot, all three wave at the reader.
Alyss: What this means for QUANTUM VIBE is we're taking the week off.
Bok: We'll be back next week – December 30th by the Terran calendar.
Sergio: Stay safe, stay free.