The El Neil Collection on Sale Now! [ Feb 17, 2020 ]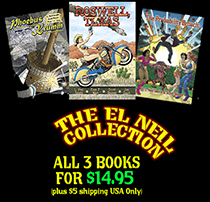 So you've wanted to buy all 3 of L. Neil Smith's classic Big Head Press graphic novels? Well, wait no longer. That day has arrived. All 3 of El Neil's books can now be ordered direct from the publisher for the low price of $14.95 USD (sorry, offer only available in the USA).
Included in this collection: El Neil's space pirate swash-buckler, Phoebus Krumm, his alternate Texas history sci-fi spy thriller, Roswell, Texas, as well as his twice Prometheus award winning sci-fi adventure, The Probability Broach: The Graphic Novel. The collection's art by Quantum Vibe creator Scott Bieser. You won't find a better deal this side of LaPorte. Order now while supplies last!
Please help Scott keep QUANTUM VIBE alive!
Buy our books:

Become a subscriber or patron
Transcript For Strip 2055
Panel 1
In another, undamaged sphere, we see a nondescript, warehouse-like structure amid a grouping of other similar structures.
Caption: A few hours later ...
Alyss (from inside structure): No, Michael, it's not at all fancy, and that's the point. It's a safely discreet place to dock Eva Jeanne while I take care of business here.
Panel 2
In an alcove aboard the Eva Jeanne, Alyss converses with Michael, the Cybernetic Autonomous Telequidnuc we first saw in the Venus 23 arc. Alyss is looking depressed.
Michael: You seem really sad. How bad was the damage to La Casa Silvestri?
Alyss: It was completely horrendous. I don't know yet if Monty can be resurrected.
Alyss: And no one knows what happened to Diana.
Panel 3
Alyss absent-mindedly stroking Michael the way anyone would pet a cat.
Michael: This seems like a great argument for off-site, redundant back-ups.
Alyss: Maybe, but people are wise to worry about the security of off-site personality data.
Alyss: Imagine having unauthorized copies of yourself running around, ruining your credit rating.
Panel 4
A sullen Alyss is walking away from the alcove, leaving Michael to watch her depart.
Alyss: Well, we can hash out those issues later. Right now there are more pressing concerns.
Alyss: Sit tight while I go do battle with four of my favorite sparring partners.