The El Neil Collection on Sale Now! [ Feb 17, 2020 ]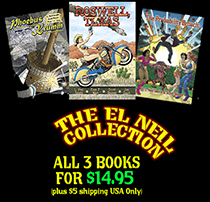 So you've wanting to buy all 3 of L. Neil Smith's classic Big Head Press graphic novels? Well, wait no longer. That day has arrived. All 3 of El Neil's books can now be ordered direct from the publisher for the low price of $14.95 USD (sorry, offer only available in the USA).
Included in this collection: El Neil's space pirate swash-buckler, Phoebus Krumm, his alternate Texas history sci-fi spy thriller, Roswell, Texas, as well as his twice Prometheus award winning sci-fi adventure, The Probability Broach: The Graphic Novel". The collection's art by Quantum Vibe creator Scott Bieser. You won't find a better deal this side of LaPorte. Order now while supplies last!
Please help Scott keep QUANTUM VIBE alive!
Buy our books:

Become a subscriber or patron
Transcript For Strip 277
Panel 1
Nicole is in her hotel room, clad in a bathrobe with a towel wrapped around her head. She is walking away from the entry door to her room, carrying a tray of food.
Nicole (thought): Can't believe I slept so late.
Nicole (thought): Three cheers for room service, anyway.
Panel 2
Nicole is seated at the small table in her room, her back to the near corner. She is pulling the lid off the larger dish, revealing a steaming hot breakfast.
Nicole (thought): Time enough for a quick brunch before I start the day.
Nicole (thought): Also, some quick research ...
Panel 3
Looking over Nicole's shoulder at the room screen, which is showing a graphic for the application 'Who Dat?' which is a search engine for personal backgrounds.
Nicole: Roomscreen, I need some background info on a Rando Greene.
Nicole: Aldrinopolis resident, about 195 cm tall, light skin, dark hair, apparent age 30 years.
Panel 4
Medium shot of Nicole at her breakfast table, chewing on some food, looking intently towards the Roomscreen (OP).
Roomscreen: FIL FOUND MATCHIN PARAMS. DISPLAYIN DATA.
Nicole (thought): Oh-HO.