Scott @ LP Con 2020! [ Feb 8, 2020 ]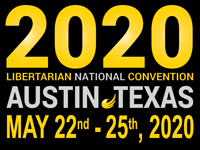 Been wishing you could meet Quantum Vibe creator Scott Bieser and get his autograph on one of his many graphic novels? If you're going to be in Austin, Texas the weekend of May 22nd through the 25th this year, you're in luck. Big Head Press will be selling books in the exhibit area for the 2020 Libertarian Party Convention. Scott will also be at the table, helping out and chatting with fans.
You don't have to be a libertarian or have any interest in politics to come see us. The exhibit area is open to the public, in the JW Ballroom on the 4th floor of the JW Marriot in downtown Austin.
Please help Scott keep QUANTUM VIBE alive!
Buy our books:

Become a subscriber or patron
Transcript For Strip 297
Panel 1
Philbert on the stage, speaking to the audience.
Philbert: SRY 4 DA INTERRUPSHUN, FOLKZ, BUT I HAS JUS LERND WE HAS SPESHUL GUEST IN R AUDIENCE TONITE ...
Philbert: A LOVELY LADY HOO IZ TEH FURST WOMAN 2 MAK DEATH-DEFYIN DIV INTO R SUN, 4 SCIENCE!

Panel 2
Over at Nicole's table, Nicole has regained her seat next to Rando, but has covered her face, cringing in horror.
Rando: Is this the ex-boyfriend you mentioned?
Nicole (weakly): ohgourdnonono
Philbert: LADIEZ AN GENTLEMEN, PLZ GIV IT UP 4 DA INCOMPARABLE NICOLE ORESME!
Panel 3
Rando tries to comfort/cajoke Nicole.
Rando: Don't worry, Nicole. Just wave and the moment will pass.
Rando: At least he's down there, and we're up here.
Nicole: Unless he has ...
Panel 4
Philbert is now hovering in front of and a bit above Nicole's table. Nicole has buried her face in Rando's shoulder.
Nicole: A mag-lev pack.
Philbert: CMON, HONEY, DOAN BE SHY.