The El Neil Collection on Sale Now! [ Feb 17, 2020 ]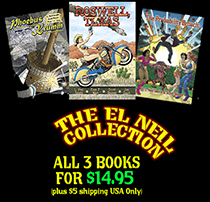 So you've wanted to buy all 3 of L. Neil Smith's classic Big Head Press graphic novels? Well, wait no longer. That day has arrived. All 3 of El Neil's books can now be ordered direct from the publisher for the low price of $14.95 USD (sorry, offer only available in the USA).
Included in this collection: El Neil's space pirate swash-buckler, Phoebus Krumm, his alternate Texas history sci-fi spy thriller, Roswell, Texas, as well as his twice Prometheus award winning sci-fi adventure, The Probability Broach: The Graphic Novel. The collection's art by Quantum Vibe creator Scott Bieser. You won't find a better deal this side of LaPorte. Order now while supplies last!
Please help Scott keep QUANTUM VIBE alive!
Buy our books:

Become a subscriber or patron
Transcript For Strip 362
Panel 1
Stone is in Nicole's hotel room, seated on the bed as she brings up Nicole's search history on the room Screen. The history shows a short list, which includes the names Claud Southend, The Lucky Duck Club, the Bully Goat Tavern, and Rando Greene.
No dialog.
Panel 2
Stone is in the Lucky Duck Club, talking to a bartender. She is showing an image of Nicole, but the bartender doesn't seem to recognize her.
No dialog.
Panel 3
Stone is in the Bully Goat Tavern. It's less crowded now, but there are still some patrons in the background. She's talking with the bartender, who does recognize Nicole's image.
No dialog.
Panel 4
One of the patrons, a rough-looking male, has walked up to Stone, shouting something while he angrily shoves her. Some of the other patrons look on with anticipation.
No dialog.
Panel 5
Stone effortlessly lifts the ruffian by his groin. His face reveals his agony. The other patrons are saucer-eyed.
No dialog.
Panel 6
Stone casually tosses the ruffian over her shoulder. The other patrons shy away.
No dialog.
Panel 7
In the Offworld Lounge, Stone scans the table where Nicole and Rando had been sitting with her visor.
No dialog.

Panel 8
As Stone walks down the street, she holds a palm alongside her face, indicating she is making a tel call.
Stone: So far I have two subjects, a journo and a publicist. I suspect our guy is the latter, but I'll be looking into both of them.