The El Neil Collection on Sale Now! [ Feb 17, 2020 ]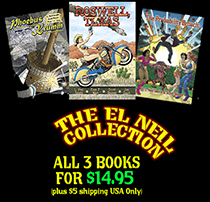 So you've wanted to buy all 3 of L. Neil Smith's classic Big Head Press graphic novels? Well, wait no longer. That day has arrived. All 3 of El Neil's books can now be ordered direct from the publisher for the low price of $14.95 USD (sorry, offer only available in the USA).
Included in this collection: El Neil's space pirate swash-buckler, Phoebus Krumm, his alternate Texas history sci-fi spy thriller, Roswell, Texas, as well as his twice Prometheus award winning sci-fi adventure, The Probability Broach: The Graphic Novel. The collection's art by Quantum Vibe creator Scott Bieser. You won't find a better deal this side of LaPorte. Order now while supplies last!
Please help Scott keep QUANTUM VIBE alive!
Buy our books:

Become a subscriber or patron
Transcript For Strip 437
Panel 1
Establishing shot of the grand party, in a large ballroom. Men dressed mostly in black suits, flanked by women and femiform androids wearing all manner of clothing, some styles as outlandish as Thien's designs.
Caption: The grand fete:

Panel 2
A liveried servant, standing near the grand ballroom entrance, reads from an electronic card.
Servant: Announcing, from L-5 City ...
Servant: Dr. Seamus O'Murchadha, with Nicole Oresme and the android Ventura.

Panel 3
Seamus, flanked by Nicole and Ventura, framed by the wide entrance. This is the reveal of the redesigned ball-gowns.
Seamus (sotto voce): Here we go ...

Panel 4
Seamus, Nicole and Ventura descend the stairs into the room. In the foreground we see other party guests, men and women, turning to look at them. Seamus is looking his dignified best. Nicole is visibly nervous but not losing her cool. Ventura is smiling calmly.
No dialog.

Panel 5
Seamus, Nicole and Ventura are surrounded by adminiring men and doyens.
Doyen 1: Absolutely exquisite!
Man: Smashing gowns, O'Murchadha!
Doyen: You must tell us who your designer is!

Panel 6
Nicole is proud and wants to answer, but Seamus interrupts her.
Nicole: Actually, it was ...
Seamus: L-5 City's best-kept secret, Van Tranh Xistar. Bit of a recluse, but highly talented.
Doyen: I hope you will pass along his contact information.

Panel 7
Now Nicole is looking angry. Seamus continues to schmooze the gathered crowd.
Seamus: Mr. Xistar only works via referrals, I'm afraid.
Seamus: If you will provide your contact information I'll be happy to refer you, Madame Xiao.
Nicole (thoughtsend): Van Transistor? Are you shucking kidding?

Panel 8
Seamus smiles gently as he casts a stern glance at Nicole.
Seamus (thoughtsend): The truth would bring down their wrath. Work with me here.
Seamus: My friends, I'm afraid I'm rather parched. If someone could direct us to the refreshments?