The El Neil Collection on Sale Now! [ Feb 17, 2020 ]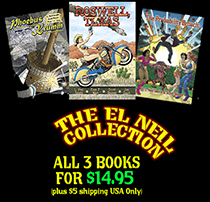 So you've wanted to buy all 3 of L. Neil Smith's classic Big Head Press graphic novels? Well, wait no longer. That day has arrived. All 3 of El Neil's books can now be ordered direct from the publisher for the low price of $14.95 USD (sorry, offer only available in the USA).
Included in this collection: El Neil's space pirate swash-buckler, Phoebus Krumm, his alternate Texas history sci-fi spy thriller, Roswell, Texas, as well as his twice Prometheus award winning sci-fi adventure, The Probability Broach: The Graphic Novel. The collection's art by Quantum Vibe creator Scott Bieser. You won't find a better deal this side of LaPorte. Order now while supplies last!
Please help Scott keep QUANTUM VIBE alive!
Buy our books:

Become a subscriber or patron
Transcript For Strip 459
Panel 1
Nicole, Buford and Ventura enter a large building under a sign reading (in both languages) "TUBE STATION"
Buford: Why don't we take our limo to Xin Rizhao?
Nicole: Because I had to send it back to the Po estate for Seamus to use.
Nicole: Besides, this should be interesting.

Panel 2
The trio stands in a short queue before a ticket kiosk.
Buford: Is t'at 'interesting' as in, 'oh, cool,' or as in, 'oh, crat'?
Nicole: Well, I _think_ it will be cool.

Panel 3
At the ticket kiosk, Nicole peers at the monitor listing fares, and puts some dime-sized coins into the receptacle..
Nicole: Hm. Three fares to Xin Rizhao, comes to 4 yinke.
Ventura: Do you need me to go with you? You could return me to the rental shop.

Panel 4
The trio walks away from the ticket counter, Nicole, holding a small plastic fob, blushes a bit as she answers Ventura.
Nicole: Well, Seamus paid for three days, so we should get his money's worth.
Nicole: And besides, we may have to stay overnight and ... I might have nightmares again.