The El Neil Collection on Sale Now! [ Feb 17, 2020 ]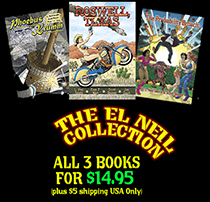 So you've wanted to buy all 3 of L. Neil Smith's classic Big Head Press graphic novels? Well, wait no longer. That day has arrived. All 3 of El Neil's books can now be ordered direct from the publisher for the low price of $14.95 USD (sorry, offer only available in the USA).
Included in this collection: El Neil's space pirate swash-buckler, Phoebus Krumm, his alternate Texas history sci-fi spy thriller, Roswell, Texas, as well as his twice Prometheus award winning sci-fi adventure, The Probability Broach: The Graphic Novel. The collection's art by Quantum Vibe creator Scott Bieser. You won't find a better deal this side of LaPorte. Order now while supplies last!
Please help Scott keep QUANTUM VIBE alive!
Buy our books:

Become a subscriber or patron
Transcript For Strip 510
Panel 1
Nicole Avatar is standing in a floating platform facing a 10-meter tall frieze of Ventura backed into a wall full of complex geometric line-shapes.
Nicole: There, you now have the knowledge and training of Aikido-Lemba and Arata-Kenpo.
Nicole: Next time you get into a scrape you can fend for yourself.
Ventura: You do not understand the social context of what you're doing.
Panel 2
Medium shot of the Ventura-Frieze, as Nicole Avatar swings the platform around in an upward arc.
Ventura: Androids are prohibited from using even defensive force against a human, both by law and by our fundamental coding.
Nicole: Bullshit. 'If that is what the law says, then the law is a ass.'
Panel 3
She backs the platform up to the side of the Ventura-Frieze's head, where there's something that looks like a gigantic house-light switch, in the down position.
Nicole: The arti-folk on L-5 have the same basic coding you do, and don't have defense-dampening.
Nicole: There's lots of ways of dumping malware, if you know the landscape.
Nicole: But this one is one of my favorites.


Panel 4
Using both hands, Nicole Avatar heaves the switch into the up position, and Ventura-Frieze's head lights up.
Ventura: I ... I'm FREE.
Nicole: Yeah, pretty cool, huh?
Ventura: I ... I could kick you out now, you know.

Panel 5
Now Nicole Avatar arcs the platform downward. We see Ventura-Frieze's glowing head behind her.
Nicole: That's what it's all about. But you should wait a sec.
Ventura: Why?
Nicole: Because I found something interesting.

Panel 6
The platform settles to a corner of the wall which incongrously resembles a grass hut, scaled to Nicole Avatar's size. On the front of the hut is a steel door, like a bank vault's.
Nicole: What's with the steel door on the grass hut? Some kind of joke?
Ventura: I don't know ... I was not aware of that until you pointed it out to me.

Panel 7
Medium close-up of Nicole Avatar next to the door, punching buttons on the key-pad locking interface with superhuman speed.
Nicole: So, do you wonder what's in here?
Ventura: Of course, but ... it is not a good idea for you to ...

Panel 8
The door blasts open, as intense beams of light pour out and send Nicole Avatar flying.
SFX: R-WHOOOOOSH!!!