The El Neil Collection on Sale Now! [ Feb 17, 2020 ]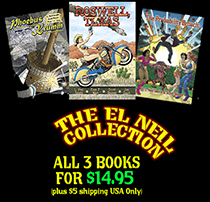 So you've wanted to buy all 3 of L. Neil Smith's classic Big Head Press graphic novels? Well, wait no longer. That day has arrived. All 3 of El Neil's books can now be ordered direct from the publisher for the low price of $14.95 USD (sorry, offer only available in the USA).
Included in this collection: El Neil's space pirate swash-buckler, Phoebus Krumm, his alternate Texas history sci-fi spy thriller, Roswell, Texas, as well as his twice Prometheus award winning sci-fi adventure, The Probability Broach: The Graphic Novel. The collection's art by Quantum Vibe creator Scott Bieser. You won't find a better deal this side of LaPorte. Order now while supplies last!
Please help Scott keep QUANTUM VIBE alive!
Buy our books:

Become a subscriber or patron
Transcript For Strip 517
Panel 1
Same scene, now Tong Xie-Po comes walking up the hallway.
Peng-Bo: And right on queue, here comes our host.
Seamus: How are you holding up, Xie-Po?

Panel 2
Three-shot: Peng-Bo, Xie-Po, Seamus. Xie-Po looks aged.
Xie-Po: I have told the staff to end the party and send the guests away.
Xie-Po: Of course, you two are special guests, so I thought I should bid you good-bye personally.

Panel 3
Closer 3-shot: Peng-Bo and Seamus look a bit uncomfortable, as Xie-Po looks at Seamus with a bit of a hopeful expression.
Xie-Po: Unless, of course, there is any chance we could still do our deal.
Peng-Bo: Well, actually ...
Seamus: It was not possible for Mr. Peng-Bo to purchase your shares, so I sold him a larger share of a more mature project.

Panel 4
Xie-Po looks even more crestfallen than before. Seamus lays a comforting hand on his shoulder.
Xie-Po: I ... see. So I end the day with nothing but failure ...
Seamus: The day is not over yet, Xie-Po.
Seamus: Mr. Peng-Bo, if you will please excuse us?