Scott @ LP Con 2020! [ Feb 8, 2020 ]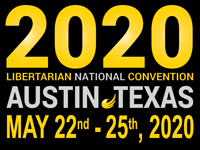 Been wishing you could meet Quantum Vibe creator Scott Bieser and get his autograph on one of his many graphic novels? If you're going to be in Austin, Texas the weekend of May 22nd through the 25th this year, you're in luck. Big Head Press will be selling books in the exhibit area for the 2020 Libertarian Party Convention. Scott will also be at the table, helping out and chatting with fans.
You don't have to be a libertarian or have any interest in politics to come see us. The exhibit area is open to the public, in the JW Ballroom on the 4th floor of the JW Marriot in downtown Austin.
Please help Scott keep QUANTUM VIBE alive!
Buy our books:

Become a subscriber or patron
Transcript For Strip 531
Panel 1
Back on Huoxing: At the entrance to a building with a sign marked (in both languages) "Escrow And Exchange House", Seamus waits by the entrance, as Peng-Bo Shen approaches surrounded by a phalanx of muscular, business-attired men.
Peng-Bo: Sorry I'm late, Dr. Murchadha.
Seamus: That's quite a retinue you've brought with you, Mr. Peng-Bo.

Panel 2
Seamus and Shen stand face to face, with Shen's retinue forming a semi-circle around him, facing outwards.
Peng-Bo: Oh, this is just my security team.
Peng-Bo: They accompany me anywhere I go in public.
Seamus: I see.

Panel 3
Closer shot of Seamus and Shen. We can still see one or two of the guards.
Seamus: I suppose this is a wise precaution, as your adoring public may resent your designs to disarm them.
Seamus: But aren't you worried about the zringer I'm wearing?

Panel 4
Shen gestures for Seamus to enter the building with him.
Shen: The weapons ban I'm proposing isn't for people such as you and me.
Shen: That's just for the commoners.