Scott @ LP Con 2020! [ Feb 8, 2020 ]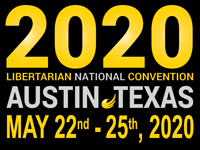 Been wishing you could meet Quantum Vibe creator Scott Bieser and get his autograph on one of his many graphic novels? If you're going to be in Austin, Texas the weekend of May 22nd through the 25th this year, you're in luck. Big Head Press will be selling books in the exhibit area for the 2020 Libertarian Party Convention. Scott will also be at the table, helping out and chatting with fans.
You don't have to be a libertarian or have any interest in politics to come see us. The exhibit area is open to the public, in the JW Ballroom on the 4th floor of the JW Marriot in downtown Austin.
Please help Scott keep QUANTUM VIBE alive!
Buy our books:

Become a subscriber or patron
Transcript For Strip 541
Panel 1
A pair of ornate double-doors, beside which stands a ceremonial guard. The dialog comes from inside the doors.
Caption: The office of Director Chan Yuen-Lo:
Chief Ho (from inside): Thank you for seeing me, Director Chan.
Chan: Skip the pleasantries, Chief Ho. What is the situation?

Panel 2
Inside the office, Director Chan sits behind a very large desk, behind which is a decorated wall with a wide window in the center; the desk is flanked by eight monitor screens (backs to us). Ho stands in front of the desk, at attention.
Ho: This concerns the murder of the billionaire play-boy Ma Bo-Nu.
Ho: We ... suspect this was instigated by his cousin, Tong Xie-Po, co-heir to the Po Xu-ke estate.
Chan: What! How do you come to this conclusion?

Panel 3
Medium C/U on Ho:
Ho: Tong invited a foreigner, Dr. Seamus O'Murchadha, to a formal party yesterday. Then, he drew O'Murchadha away from the main event into a private conference.
Ho: Meanwhile, O'Murchadha's secondaries were sent away, and Tong sent Ma to follow them, on the pretext of keeping track of their whereabouts.

Panel 4
Looking past Ho at Chan, looking back at his subordinate intently.
Ho: One of the secondaries was a femiform android, of course, and Ma had always been ... obsessed with them.
Ho: It was a trap -- Ma was lured into an alleyway, where a third employee of O'Murchadha's, a BeltApe, killed him with her bare hands.