The El Neil Collection on Sale Now! [ Feb 17, 2020 ]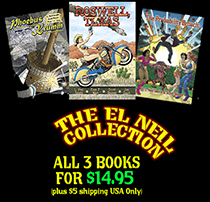 So you've wanting to buy all 3 of L. Neil Smith's classic Big Head Press graphic novels? Well, wait no longer. That day has arrived. All 3 of El Neil's books can now be ordered direct from the publisher for the low price of $14.95 USD (sorry, offer only available in the USA).
Included in this collection: El Neil's space pirate swash-buckler, Phoebus Krumm, his alternate Texas history sci-fi spy thriller, Roswell, Texas, as well as his twice Prometheus award winning sci-fi adventure, The Probability Broach: The Graphic Novel". The collection's art by Quantum Vibe creator Scott Bieser. You won't find a better deal this side of LaPorte. Order now while supplies last!
Please help Scott keep QUANTUM VIBE alive!
Buy our books:

Become a subscriber or patron
Transcript For Strip 582
Panel 1
Nina's living room: a despondent Nigel sits in a chair, with Buford perched on the chair's armrest, trying to comfort him. Standing on the other side is Agent Feirstein, a grizzled, male Beltape, taking notes on his personal Screen. Another Agent, a standard human, can be seen nearby, scanning the room with some sort of device. The other agent's back is to us and on his shirt is printed, 'Bosley Investigators.'
Agent Feirstein: Did you see any sign of anyone else in the apartment?
Nigel: N-no ...

Panel 2
Closer 3-shot of Buford, Nigel and Agent Feirstein.
Feirstein: I'm going to need an accounting of your whereabouts for t'e past 24 hours.
Nigel: Huh? Why?

Panel 3
Feirstein, Nigel and Buford. Buford is indignant.
Feirstein: As a precaution. We don't know yet whet'er foul play is infolfed here.
Buford: Foul play?! What are you implying?
Nigel: It's okay, Buford. I …

Panel 4
Nigel holds up a hand to calm Buford, while he addresses the agent.
Nigel: … I want to find out what happened as much as anyone.
Nigel: I'll tell you whatever you want to know, Agent Feirstein.