The El Neil Collection on Sale Now! [ Feb 17, 2020 ]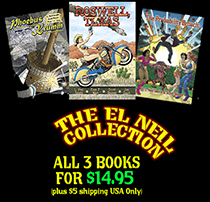 So you've wanted to buy all 3 of L. Neil Smith's classic Big Head Press graphic novels? Well, wait no longer. That day has arrived. All 3 of El Neil's books can now be ordered direct from the publisher for the low price of $14.95 USD (sorry, offer only available in the USA).
Included in this collection: El Neil's space pirate swash-buckler, Phoebus Krumm, his alternate Texas history sci-fi spy thriller, Roswell, Texas, as well as his twice Prometheus award winning sci-fi adventure, The Probability Broach: The Graphic Novel. The collection's art by Quantum Vibe creator Scott Bieser. You won't find a better deal this side of LaPorte. Order now while supplies last!
Please help Scott keep QUANTUM VIBE alive!
Buy our books:

Become a subscriber or patron
Transcript For Strip 591
Panel 1
Murphy, now wearing skingloves, is holding the magnetic resonance scanner over the corpse's head. As Nicole looks on.
Murphy: Well, there is a blockage in the basal artery.
Nicole: Ah, they were right after all. Let's get out of here.

Panel 2
Murphy hands Nicole a device that looks like a large syringe, but with a 40 cm long, thin plastic tube at the business end and a couple of wheels at the other end. Nicole is also wearing the skingloves.
Murphy: Not so fast. We need to get a sample of the blocking material.
Murphy: Here, take this and run the tube into her left nostril.
Panel 3
Murphy holds the scanner over the corpse's head, while Nicole manipulates the little wheels on the syringe – looking very uncomfortable about it.
Murphy: Use the wheels to guide the probe through the nasal passage and into the meninges.
Murphy: Straight .. now a bit left … a bit downward … now to the right … that's it.
Panel 4
Murphy and Nicole continue working with the sampler syringe. Nicole is looking more and more distressed.
Murphy: Okay, at this point you'll need to use the micro-cutter. There's a red button next to the left wheel.
Murphy: A little further …
Nicole: There's blood coming out her nose!

Panel 5
Murphy and Nicole continue this process, Nicole looking like she wants to crawl out of her own skin.
Murphy: That's to be expected.
Murphy: Okay, stop. You're at the blockage.
Murphy: Now, gently pull the back-stopper to draw the material into the probe.
Panel 6
Murphy and Nicole. Nicole is looking even more distressed.
Murphy: Well done! Now, slowly withdraw the probe, out the way you came.
Nicole: Eeeeee. Blood everywhere, everywhere.
Panel 7
With some relief, Nicole hands the bloody syringe over to Murphy.
Murphy: Okay, now to use the molecular spec-analyzer ...
Nicole: Thank goddard this is over …
Murphy: Oh, we're not done yet. If this is what I think it is we'll have to take more samples.

Panel 8
Same shot, but now Nicole is no longer visible. Murphy looks down at where Nicole has slumped.
Murphy: Okay, you can take a break for a few minutes.
Nicole (OP): You're too kind.