The El Neil Collection on Sale Now! [ Feb 17, 2020 ]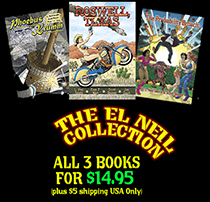 So you've wanted to buy all 3 of L. Neil Smith's classic Big Head Press graphic novels? Well, wait no longer. That day has arrived. All 3 of El Neil's books can now be ordered direct from the publisher for the low price of $14.95 USD (sorry, offer only available in the USA).
Included in this collection: El Neil's space pirate swash-buckler, Phoebus Krumm, his alternate Texas history sci-fi spy thriller, Roswell, Texas, as well as his twice Prometheus award winning sci-fi adventure, The Probability Broach: The Graphic Novel. The collection's art by Quantum Vibe creator Scott Bieser. You won't find a better deal this side of LaPorte. Order now while supplies last!
Please help Scott keep QUANTUM VIBE alive!
Buy our books:

Become a subscriber or patron
Transcript For Strip 606
Exterior view, the spaceship and the black rock and Jupiter now at the ship's 9 o'clock position. Ship is closer to the rock now.
Spike: Okay, that's three hours, and the shape is 30% larger. Should be enough to get a gravimetric reading.
Mike: Yup. I get 83.4 thousand tonnes.
Panel 2
In the control cabin with Spike and Mike.
Spike: Hoo-wee! If even half of that is pure carbon, we've found the mutha lode.
Mike: You got that right. Now, how do we grab this thing? Do we web it?
Panel 3
Spike and Mike
Spike: No, our ion thrusters will fry this thing. We pad and push.
Mike: Gotcha. Deploying spinners ...
Panel 4
Spacecraft is now closing in on the rock, three booms extended towards a large pad of 'webbing' on the rock surface.
Spike: Coming to 25 meters … easy does it.
Mike: At least I can see the damn pad we spun onto it.
Panel 5
In the control cabin.
Spike: Contact! Good job, Mike.
Mike: Great, let's take the spin off this thing and then compute a course to Ceres.
Panel 6
Spike continues watching the monitors while Mike gets out of his chair. In an inset panel, we see one of Mike's hands clutching a screwdriver.
Spike: Okay. Also, we need to log this thing with the navigation network.
Mike: Hang on, I gotta take a leak ...
Panel 7
Mike suddenly whirls, grabs Spike's hair to pull his head forward, and with the other hand plunges the screwdriver into the back of Spike's neck, killing him instantly.
SFX: CHONK


Panel 8
Back in his chair, Mike works his fingers over the control interface.
Mike: Sorry, lover. But orders are orders.