The El Neil Collection on Sale Now! [ Feb 17, 2020 ]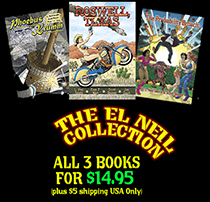 So you've wanted to buy all 3 of L. Neil Smith's classic Big Head Press graphic novels? Well, wait no longer. That day has arrived. All 3 of El Neil's books can now be ordered direct from the publisher for the low price of $14.95 USD (sorry, offer only available in the USA).
Included in this collection: El Neil's space pirate swash-buckler, Phoebus Krumm, his alternate Texas history sci-fi spy thriller, Roswell, Texas, as well as his twice Prometheus award winning sci-fi adventure, The Probability Broach: The Graphic Novel. The collection's art by Quantum Vibe creator Scott Bieser. You won't find a better deal this side of LaPorte. Order now while supplies last!
Please help Scott keep QUANTUM VIBE alive!
Buy our books:

Become a subscriber or patron
Transcript For Strip 62
Panel 1
Exterior of the Colombo Hilliott building at Helios Base, built up against the Avogadro Chasm wall.
Caption: Helios Base, Mercury
Seamus: … will have to get an adjustment within a week. So I have a referral to a colleague on Luna who can take care of me. So that's covered.

Panel 2
Establishing shot of Seamus' hotel room, something about the size of a typical Motel 8 room with a queen-sized bed, which Seamus pretty much fills. This bed is adjustable so Seamus is propped up a bit, and interacting with his personal Screen.
Seamus: Anyway, the new girl has started the Sol run. I think she'll do well.
Panel 3

Seamus, positioned so we can see some of the screen's face. There's a little box with his face in it – he's recording a message to an associate, as indicated by some 'RECORD MESSAGE' text on the screen.
Seamus: Unfortunately I ran into WB here. Or, he ran into me.
Seamus: For some unfathomable reason, the Big G has made him their liaison for the project.

Panel 4
A corridor, really more a hotel hallway, with decoratively-paneled walls and insets, and rooms with numbers on doors. This one is 117.
Seamus (from inside room): He won't likely interfere but he's nosing into our business and can be quite relentless.