The El Neil Collection on Sale Now! [ Feb 17, 2020 ]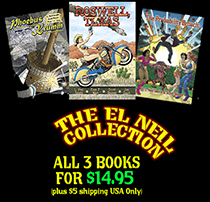 So you've wanted to buy all 3 of L. Neil Smith's classic Big Head Press graphic novels? Well, wait no longer. That day has arrived. All 3 of El Neil's books can now be ordered direct from the publisher for the low price of $14.95 USD (sorry, offer only available in the USA).
Included in this collection: El Neil's space pirate swash-buckler, Phoebus Krumm, his alternate Texas history sci-fi spy thriller, Roswell, Texas, as well as his twice Prometheus award winning sci-fi adventure, The Probability Broach: The Graphic Novel. The collection's art by Quantum Vibe creator Scott Bieser. You won't find a better deal this side of LaPorte. Order now while supplies last!
Please help Scott keep QUANTUM VIBE alive!
Buy our books:

Become a subscriber or patron
Transcript For Strip 674
Panel 1
Nicole and Antigone are still standing outside the door to Seamus' room. Nicole has run out of patience, and yells at the top of her lungs. Antigone is taken aback by the outburst.
Nicole: Gordammit ...
Nicole: Seamus let us in right now or I'm gonna take all my clothes off and run through the concourse naked until I FUCK the ugliest man I can find!

Panel 2
The door irises open, but instead of Seamus we see a slightly-built, young man. Nicole and Antigone are surprised.
Young man: Dr. O'Murchadha said I should watch, but perhaps you'd better come in.

Panel 3
Nicole, Antigone, Murphy in her Bubb, are in the apartment. They greet Ed and Chelsea. Chelsea is a slightly-built, light-skinned blonde.
Ed: Hi, I'm Ed Newsdon and this is my fiancee, Chelsea Flemming.
Chelsea: Wow, are you the famous Sun-Diver Girl? Honored to meet you.


Panel 4
Nicole is shaking Chelsea's hand diffidently, looking toward Seamus in the foreground, who is working intently on some device.
Nicole: Yeah, yeah, likewise. What's the deal with Seamus?
Ed: He's working against a deadline and asked us to explain what's been going on.