The El Neil Collection on Sale Now! [ Feb 17, 2020 ]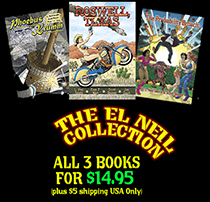 So you've wanted to buy all 3 of L. Neil Smith's classic Big Head Press graphic novels? Well, wait no longer. That day has arrived. All 3 of El Neil's books can now be ordered direct from the publisher for the low price of $14.95 USD (sorry, offer only available in the USA).
Included in this collection: El Neil's space pirate swash-buckler, Phoebus Krumm, his alternate Texas history sci-fi spy thriller, Roswell, Texas, as well as his twice Prometheus award winning sci-fi adventure, The Probability Broach: The Graphic Novel. The collection's art by Quantum Vibe creator Scott Bieser. You won't find a better deal this side of LaPorte. Order now while supplies last!
Please help Scott keep QUANTUM VIBE alive!
Buy our books:

Become a subscriber or patron
Transcript For Strip 679
Panel 1
Medium close-up on Antigone, re-capping.
Antigone: So you've discovered a plot to commit mass-murder, arranged so as to trigger a general war between Ceres and Hygiea.
Antigone: Vesta Vista Development is the major actor here but you also implicate Omega Tech and the Republic of Luna government.
Antigone: So, what did you do with your findings?

Panel 2
Re-establish scene in hotel bedroom: Ed Newsdon, Chelsea Flemming, Nicole, Antigone, and Murphy floating in the Bubb. Chelsea looks remorseful.
Ed: Chelsea took them to Nina Levin, against my advice.
Chelsea: And she ended up dead. Because of me.
Ed: No, because of Vesta Vista. I figured we'd be next so we contacted Chelsea's grandfather.

Panel 3
Chelsea and Nicole.
Chelsea: We explained the situation to him, and showed him our data – he can process information remarkably quickly, you know.
Nicole: And he believes you.
Chelsea: And he believes us, yes.

Panel 4
Ed, Chelsea, Nicole and Antigone.
Ed: He contacted some people he knows on Ceres but they're skeptical. It's hard to react to a threat you can't see.
Chelsea: But Grampa thinks he has a solution.
Nicole: Huh. I'll bet I know what that is, too.