The El Neil Collection on Sale Now! [ Feb 17, 2020 ]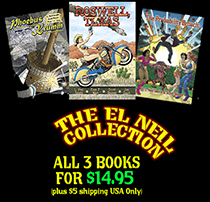 So you've wanting to buy all 3 of L. Neil Smith's classic Big Head Press graphic novels? Well, wait no longer. That day has arrived. All 3 of El Neil's books can now be ordered direct from the publisher for the low price of $14.95 USD (sorry, offer only available in the USA).
Included in this collection: El Neil's space pirate swash-buckler, Phoebus Krumm, his alternate Texas history sci-fi spy thriller, Roswell, Texas, as well as his twice Prometheus award winning sci-fi adventure, The Probability Broach: The Graphic Novel". The collection's art by Quantum Vibe creator Scott Bieser. You won't find a better deal this side of LaPorte. Order now while supplies last!
Please help Scott keep QUANTUM VIBE alive!
Buy our books:

Become a subscriber or patron
Transcript For Strip 684
Panel 1
Close-up on the 3D holosphere graphic. A potato-shaped object is featured in the center.
Antigone (OP): Is that it?
Nicole (OP): It might be.
Seamus (OP): It's roughly the correct mass, and it's roughly in the area we expected, based on what Chelsea told us.

Panel 2
Pull back to see everyone – Antigone, Nicole, Ed, Chelsea, Seamus – gathered around the mass detector, with Seamus controlling the device with his tablet 'Watson' while the others look on.
Nicole: It also does not appear on any of the charts.
Seamus: In a few minutes I'll be able to compute its orbit and find out where it's headed.

Panel 3
Antigone, Nicole, Ed, Chelsea.
Chelsea: If it is the black rock, then what? Will we be believed?
Antigone: Yes, I think so.

Panel 4
The others turn to look at Antigone.
Antigone: I've been in touch with the senior S&H agent here on Vesta, and apprised him of the situation.
Antigone: We have almost a million clients on Ceres, you know.