Scott @ LP Con 2020! [ Feb 8, 2020 ]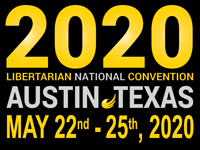 Been wishing you could meet Quantum Vibe creator Scott Bieser and get his autograph on one of his many graphic novels? If you're going to be in Austin, Texas the weekend of May 22nd through the 25th this year, you're in luck. Big Head Press will be selling books in the exhibit area for the 2020 Libertarian Party Convention. Scott will also be at the table, helping out and chatting with fans.
You don't have to be a libertarian or have any interest in politics to come see us. The exhibit area is open to the public, in the JW Ballroom on the 4th floor of the JW Marriot in downtown Austin.
Please help Scott keep QUANTUM VIBE alive!
Buy our books:

Become a subscriber or patron
Transcript For Strip 746
Panel 1
Seamus, Moe, Nicole and Murphy are in a break area. Some padded bench seats, a food and drink dispenser. Moe is handing Nicole a beverage as Seamus gets his own drink. Murphy stands by.
Caption: Finally:
Moe: Task completed with 15 minutes to spare!
Moe: You do good work.
Nicole: Thanks.
Panel 2
Two-shot of Nicole and Murphy. Nicole looks at her drink pensively. Murphy just looks pensive.
Nicole: Although I'm not sure how happy I am to have been helpful here.
Nicole: My work here is going into a war effort, however well-intended. Blood will be on my hands.

Panel 3
Nicole is not happy with Murphy's remark.
Murphy: But you have already taken lives, have you not?
Nicole: Those were pure kill-or-be-killed situations which I did not seek out, dammit.
Nicole: I don't go looking for trouble.

Panel 4
Moe sits down on the bench next to Nicole.
Moe: I have no passion for killing, either. At heart I'm a builder, not a destroyer.
Moe: If only you could understand what it is we're fighting to end.
Moe: Let me tell you a story ...