The El Neil Collection on Sale Now! [ Feb 17, 2020 ]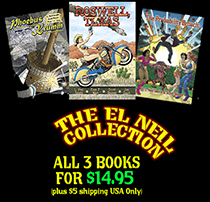 So you've wanting to buy all 3 of L. Neil Smith's classic Big Head Press graphic novels? Well, wait no longer. That day has arrived. All 3 of El Neil's books can now be ordered direct from the publisher for the low price of $14.95 USD (sorry, offer only available in the USA).
Included in this collection: El Neil's space pirate swash-buckler, Phoebus Krumm, his alternate Texas history sci-fi spy thriller, Roswell, Texas, as well as his twice Prometheus award winning sci-fi adventure, The Probability Broach: The Graphic Novel". The collection's art by Quantum Vibe creator Scott Bieser. You won't find a better deal this side of LaPorte. Order now while supplies last!
Please help Scott keep QUANTUM VIBE alive!
Buy our books:

Become a subscriber or patron
Transcript For Strip 971
Panel 1
Nicole and Murphy sitting together on the bed in their stateroom, conversing via thoughtsend. Their projected clothing is different, indicating a new day.
Murphy: All right, you've set up your accounts as I suggested, right? You'll be out of contact for quite some time.
Nicole: Yes, I did. I don't understand why all this cloak-and-dagger stuff, though.

Panel 2
Closer on Murphy and Nicole.
Murphy: No dagger, just cloak.
Murphy: And it's for operational security. You should understand that by now.
Nicole: But wouldn't Johanna already know about, you know, the secret stash?

Panel 3
Cut to a view of the room from the corridor, their door closed.
Murphy (OP): Remember we're talking about Lord Paranoid here. Seamus didn't even tell Johanna everything.
Murphy (OP): And it's a good thing, too. He's the one who found the monitoring device in that smart-suit Johanna gave you.
Nicole (voiced): WHAT!!!
Panel 4
Back inside the room, Nicole is shocked, Murphy is chuckling.
Murphy (thoughtsend): Relax. He disabled it at dinner the first night.
Murphy (thoughtsend): This might be why he paid you your fee a couple of days early.