The El Neil Collection on Sale Now! [ Feb 17, 2020 ]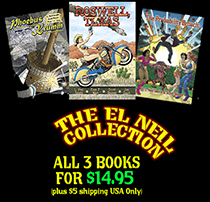 So you've wanting to buy all 3 of L. Neil Smith's classic Big Head Press graphic novels? Well, wait no longer. That day has arrived. All 3 of El Neil's books can now be ordered direct from the publisher for the low price of $14.95 USD (sorry, offer only available in the USA).
Included in this collection: El Neil's space pirate swash-buckler, Phoebus Krumm, his alternate Texas history sci-fi spy thriller, Roswell, Texas, as well as his twice Prometheus award winning sci-fi adventure, The Probability Broach: The Graphic Novel". The collection's art by Quantum Vibe creator Scott Bieser. You won't find a better deal this side of LaPorte. Order now while supplies last!
Please help Scott keep QUANTUM VIBE alive!
Buy our books:

Become a subscriber or patron
Transcript For Strip 1107
Panel 1
In the monorail terminal (we see an electronic sign saying, MONORAIL 14), Bok is casually leaning against a pillar, looking at his Screen. Zander is half-walking, half-running up to him. We see other people of various ages standing, leaning, sitting on benches, waiting for the monorail.
Zander: Hey, Bok.
Bok: Hey, Zander.
Zander: D'ja get ahold of your, uh, friend?
Bok: That I did.
Panel 2
As the two walk together, Bok surreptitiously hands Zander a small package.
Zander: You sure it's the right, uh, flavor churro?
Bok: I know churros well enough to tell one kind from the other.
Zander: I doubt that, but I guess I'll find out later when I, uh, taste it.

Panel 3
The two step aboard a monorail which has stopped at the platform. There are other people around, not paying attention.
Zander: Wish you'd introduce me to your friend. Would be more convenient.
Bok: You wouldn't like my friend. He's kind of an asshole.
Zander: Hey, you're kind of an asshole sometimes, and I like you.