The El Neil Collection on Sale Now! [ Feb 17, 2020 ]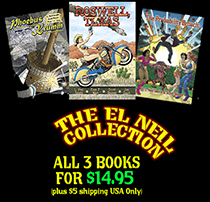 So you've wanting to buy all 3 of L. Neil Smith's classic Big Head Press graphic novels? Well, wait no longer. That day has arrived. All 3 of El Neil's books can now be ordered direct from the publisher for the low price of $14.95 USD (sorry, offer only available in the USA).
Included in this collection: El Neil's space pirate swash-buckler, Phoebus Krumm, his alternate Texas history sci-fi spy thriller, Roswell, Texas, as well as his twice Prometheus award winning sci-fi adventure, The Probability Broach: The Graphic Novel". The collection's art by Quantum Vibe creator Scott Bieser. You won't find a better deal this side of LaPorte. Order now while supplies last!
Please help Scott keep QUANTUM VIBE alive!
Buy our books:

Become a subscriber or patron
Transcript For Strip 116
Panel 1
In Seamus' hotel room – looks a lot like Nicole's but the wall decorations are a bit different. Seamus is packing his last suitcase. Nicole stands with her suitcase near the door.
Nicole: Ready soon?
Seamus: This is the last suitcase.
Panel 2
Seamus stands with his three suitcases near Nicole with her one. He is trying to be jovial, but she has a flat expression.
Seamus: Well, that was some adventure, wasn't it?
Seamus: And now, on to Venus! Excitement awaits!
Panel 3
Nicole simply turns and walks out of the room. Her suitcase follows her. Seamus stands there, a bit flummoxed.
No dialog.
Panel 4
Walking as fast as he can with his cane, Seamus catches up with Nicole in the hallway. She still has a flat expression. Their suitcases follow.
Seamus: I sense a lack of enthusiasm.
Seamus: Have I said or done anything to offend you?
Panel 5
The two continue down the corridor.
Nicole: This isn't what I signed up for.
Seamus: Beg pardon?
Panel 6
Nicole stops and turns to face Seamus. She speaks through gritted teeth, anger and resentment beginning to manifest.
Nicole: In the last three days I was nearly burned up in the Sun, had to endure a hellish return trip, and was nearly murdered – first by vacuuming and then by zing-fire.
Seamus: Er, well, yes ...

Panel 7
Nicole and Seamus
Nicole: Goddammit, I never wanted to be a stunt-woman, or a shucking adventurer. I want to do science, not feats of daring, or zing-fighting, or this idiotic intrigue you're so into!
Seamus: Point taken. How can I make this right for you?

Panel 8
Nicole gets in Seamus' face as best she can. He looks cornered.
Nicole: I want to know exactly what I've nearly gotten killed for.
Nicole: No more secrecy, Seamus! Tell me what your project is really about or I'm going home!