The El Neil Collection on Sale Now! [ Feb 17, 2020 ]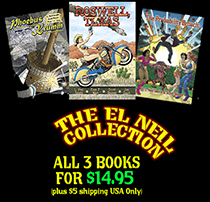 So you've wanted to buy all 3 of L. Neil Smith's classic Big Head Press graphic novels? Well, wait no longer. That day has arrived. All 3 of El Neil's books can now be ordered direct from the publisher for the low price of $14.95 USD (sorry, offer only available in the USA).
Included in this collection: El Neil's space pirate swash-buckler, Phoebus Krumm, his alternate Texas history sci-fi spy thriller, Roswell, Texas, as well as his twice Prometheus award winning sci-fi adventure, The Probability Broach: The Graphic Novel. The collection's art by Quantum Vibe creator Scott Bieser. You won't find a better deal this side of LaPorte. Order now while supplies last!
Please help Scott keep QUANTUM VIBE alive!
Buy our books:

Become a subscriber or patron
Transcript For Strip 130
Panel 1
Nicole is carrying a meal tray for Seamus, but pauses as she approaches the door to their room.
Seamus (from inside room): oh, OH, OH!. Oh, my good lord.
Panel 2
Nicole enters the room. Seamus' accel couch is laid flat, and he is laying prone upon it, his mu-mu opened in the back to reveal a naked back with voluminous boxers covering his ass. Hitomi (in girl form again, now wearing more casual shorts and tank-top shirt) is on his back, walking on hands and knees.
Seamus: Oh, this is marvelous!
Hitomi: You have a lot of stress in you.
Panel 3
Nicole, keeping a blank expression but not looking at Seamus, sets the meal tray atop a waist-high cabinet..
Nicole: Wasn't aware you had company, Seamus.
Nicole: Here's your dinner. I'll have mine with Mr. Patel, I think.
Panel 4
Nicole is half-way out the door. Seamus and Hitomi (still on Seamus' back) look on.
Seamus: You really should try this, Nicole. She's a great stress-reducer.
Hitomi: I'm afraid your friend is quite shy.